Doesn't sell beer, but there's plenty of food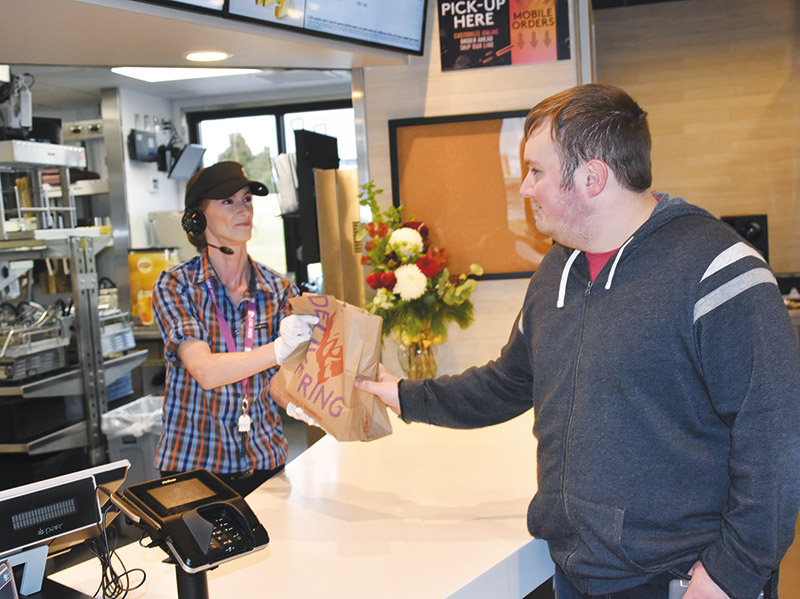 That new Taco Bell – without beer – has opened on Charles G. Seivers Boulevard near Walmart, in the former location of a Long John Silver's restaurant that was torn down after sitting empty for about three years.

Despite all those earlier social media rumors that the new Taco Bell would be serving beer, it is – as promised – just a regular Taco Bell. But it's larger and better furnished than the other Clinton Taco Bell about four miles west on Seivers Boulevard.

The new store has an open, airy feel, with moveable chairs rather than just the fixed booths of the older Taco Bell. It opened in late December.

It also has giant electronic ordering tablets – sort of like large iPads – just inside the dining room, so customers can place their orders and pay without ever talking to an employee. When the food is ready, an employee calls the customer to the counter.

The restaurant has four state-of-the-art food preparation lines to serve customers in the store and in the drive-through lane, said breakfast shift manager Krystle Bunch.

On a recent late morning visit, customer Preston Gregory of Clinton said he was impressed with the new store.

"It's a lot nicer than the other one," he said. He also said he liked using the electronic ordering system.

General Manager Bethany Jenkins said she's still getting the occasional question about beer, even though no one in the company that owns the location ever suggested the new store was planning to serve alcohol.

"It was a rumor that apparently was started by a county commissioner," she said. "I have no idea how. There was never any truth to it."

Company officials confirmed that to the Courier News in September.

"It will be a regular Taco Bell," said Michael Border, chief development officer of the Birmingham-based Tacala Companies LLC, which owns the new store as well as the other location at 1114 Charles G. Seivers Blvd.

Taco Bell does have a new concept called the Taco Bell Cantina, which is more of a sit-down restaurant with no drive-through, that serves beer and margaritas. But Jenkins and Border said those restaurants are generally limited to larger cities, preferably near colleges.

Tacala, one of the nation's largest Taco Bell franchisees, operates about 270 of the regular Taco Bell restaurants across the Southeast and throughout Texas.