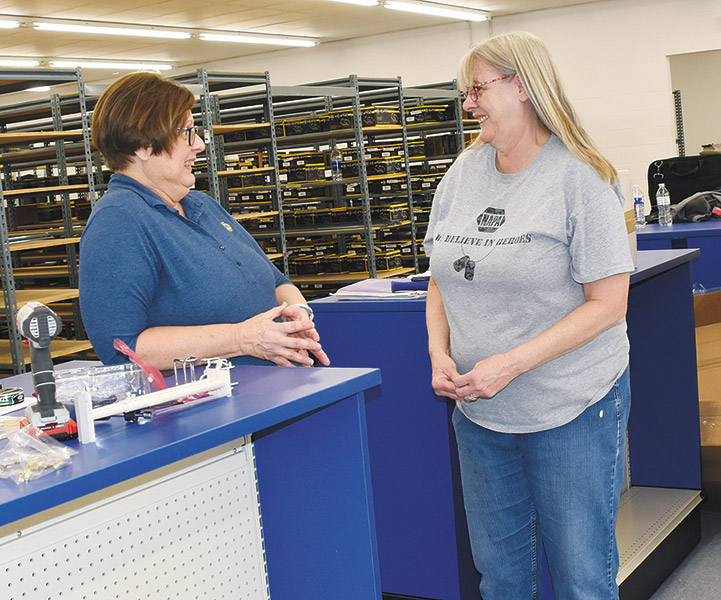 Clinton's NAPA auto parts store plans to open in a new location today (Jan. 15), next door to the Save a Lot food store (512 Clinch Ave.), moving from its longtime location farther south on Clinch Avenue.

"We're moving in this week and planning to open to the public on Wednesday," Nancy Estes, Knoxville district operations manager for the company, said as workers put together shelving and began stocking parts late last week.

"We've been at the old location about 15 years, but we'll have more space and a lot more parking available at this new location," she said. "We had about five parking spaces at the old store, but we have about 50 here."

The extra inside space will allow the store to carry a larger inventory of parts, Estes said. The company plans to hold a grand opening celebration sometime in the spring.

While the old store was on two levels, the new one is all on one floor. It's in a space that used to house a furniture store.

It's the second Clinton auto parts store to close and move to a new location in the past two months. The Advance Auto Parts store opened in a brand-new building on South Charles G. Seivers Boulevard in November, just off the Lewallen Bridge, and closed the previous location on Clinch Avenue near the Ingles supermarket.

The Clinton NAPA is a corporate-owned location of NAPA parent Genuine Parts Co. of Atlanta. There are more than 6,000 NAPA stores nationwide, about 1,200 of which are owned by Genuine Parts Co. The rest are independent franchisees. NAPA also includes about 15,000 affiliated NAPA AutoCare repair facilities in the U.S., including one that remains across the street from the old Clinton NAPA parts store, at 811 Clinch Ave.

The Clinton NAPA parts store has 10 employees now, but plans to add about two more by summer, said assistant manager Ann Shope.Manager of the store is Jason Patton.

Besides the retail store, the Clinton NAPA also operates four delivery vehicles that are on the road seven days a week, Shope said.

They make deliveries to auto repair facilities throughout the area.

Hours of the new NAPA parts store are 7:30 a.m. to 7:30 p.m. Monday through Friday; 7:30 a.m. to 6 p.m. Saturday; and 9 a.m. to 4 p.m. Sunday, Shope said.

The store offers some specialized services, including made-to-fit hydraulic hoses and the mixing of automotive paint colors.