The Walking Man returns after 'nasty fall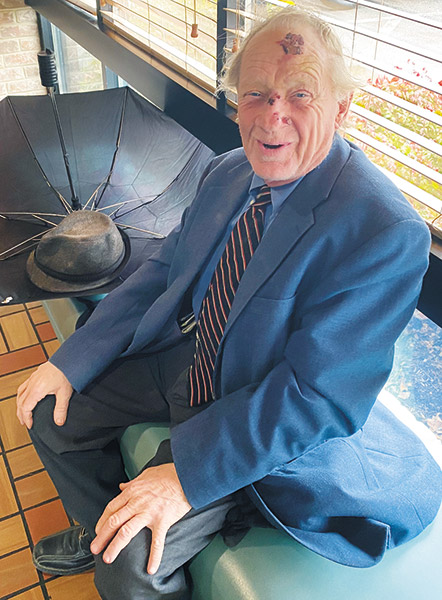 Clinton's familiar "walking man," Michael "Smitty" Smith, is back home and on the mend after taking a nasty fall last week and ending up in the Trauma Surgical Intensive Care Unit at the University of Tennessee Medical Center, Knoxville.

Smith, who turned 71 on Tuesday (Jan. 28), lives on Foley Hill Road in Clinton.

He fell on his face Tuesday (Jan. 21) while walking across the Charles G. Seivers Boulevard bridge over Interstate 75 on his way back home after eating lunch at Shoney's – something he does most every day.

Passersby saw him fall and called emergency services, and Smith was treated at the scene and then taken by ambulance to the hospital.

When The Courier News checked on him at the hospital on Wednesday, he had just been transferred to a private room from the ICU, but was alert and talking. He said he didn't remember what happened, but he apparently blacked out and fell to the pavement, hitting face-first.

He had a large contusion on his forehead and bruises on his nose, and he told the newspaper that doctors said he had "several skull fractures."

Posts about his accident on Facebook elicited hundreds of responses wishing him well from Clinton residents who know Smith or have seen him frequently walking through the city dressed in a suit and wearing a hat – on hot summer or cold winter days, rain or shine.

Smith says he's a mostly-retired preacher, and has worked at several restaurants in the area, including Shoney's and Burger King.

On Monday, just three days after being discharged from UT Medical Center, Smith was having lunch at Shoney's again – even though it was cold and rainy outside.

This time, though, he had gotten at ride to the restaurant, and was waiting to be picked up for a ride back home. Karen Eslinger of Clinton was the one who picked him up at Shoney's to take him home.

She said the Shoney's staff has started a list of people to call when Smith is there and needs a ride home, and she hopes others will add their names to the list. Smith has a history of seizures, but he doesn't like to stay at home during the daytime, so is constantly out walking.

Smith was discharged from the hospital Friday and got a ride back to Clinton from Knight's Flowers, which was making a flower delivery to him. Shortly after he arrived home, he was out walking again.