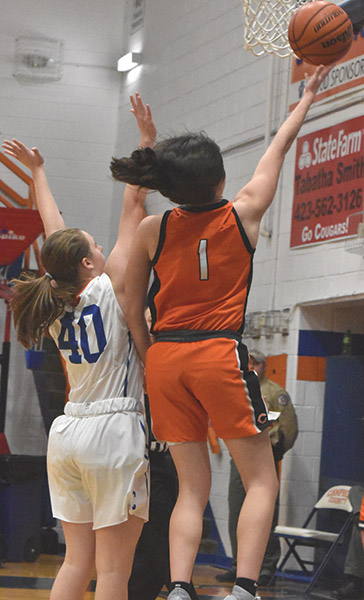 Clinton got heated in their game against Campbell County with harsh words between the girls of both teams.

The Lady Dragons travelled to Campbell County on Friday, Jan 24 for a game against the Lady Cougars. Clinton lost 47-81.

The score was one-sided the entire game, with Clinton only momentarily holding the lead in the very beginning before losing it for the rest of the game.

To be fair to the Lady Dragons, they weren't entirely outmatched or outclassed. Simply put, they were outshot. Clinton won out in offensive rebounds and deflections, as well as blocks, and they genuinely played well. Unfortunately for the girls, they just couldn't seem to hit their shots.

Despite shooting only two less times than the Lady Cougars, Clinton made ten less baskets. When it comes to treys, Clinton actually shot more times than Campbell County, but made three less baskets. Clinton especially had trouble keeping Campbell County out of the paint, with the Lady Cougars netting 44 points in the paint, over half of their overall total.

Whether the frustration with the game caused the harsh words between the two teams or the harsh words rattled Clinton is anyone's guess, but it clearly had an effect. Shoulder bumps and pushes and sneers passed between the teams for nearly the entire game.

Sarah Burton lead the team with 23 points, followed by Naiyah Sanders with seven. Burton absolutely gave the Lady Cougars a strong showing, coming away with a steal and 10 rebounds as well. Belle Starnes also had a good game, finishing with five rebounds, and two assists, as well as two deflections.