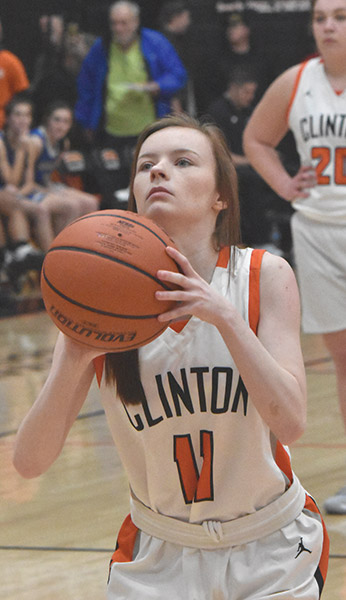 Sarah Burton and Naiyah Sanders both lead Clinton to victory of Karns.

The Lady Dragons hosted Karns on Jan. 21. Clinton won 67-31.

Karns took an early lead in the very beginning of the game, scoring two quick baskets for a promising start, but Clinton quickly and strongly answered that. After the first quarter, Clinton was up 21-9, and they continued to pull away from the Lady Beavers in the second, going 20-8 in the second quarter to finish the half 41-17.

The Lady Dragons finished with an impressive 49-percent effective field goal percentage and 1.11 points per possession. Even more impressive than that, though they finished with a fantastic 15 steals as the Dragons played the game entirely on their own terms, forcing Karns to do the same. Karns also couldn't help themselves from fouling throughout the game, finishing with a frightening 21 personal fouls before the end. Clinton dominated so thoroughly that Karns didn't manage even a single point off Clinton's nine turnovers.

The only place where Karns had any luck was offensive rebounds, going for 22 total.

Sarah Burton ran the court for almost the entirety of the game. In her 26 minutes of playtime, she made 29 points and six rebounds, as well as four assists and three steals. All of that, and she didn't foul a single time. Now that's impressive.

Naiyah Sanders came in second place for points. She finished with 18 points under her belt, including two treys. She finished with eight rebounds and four assists, as well as four steals.

Alayjah Whitt was the star team player for the night, finishing with five assists, as well as four steals and three deflections.