Beams will soon tie together piers of the new bridge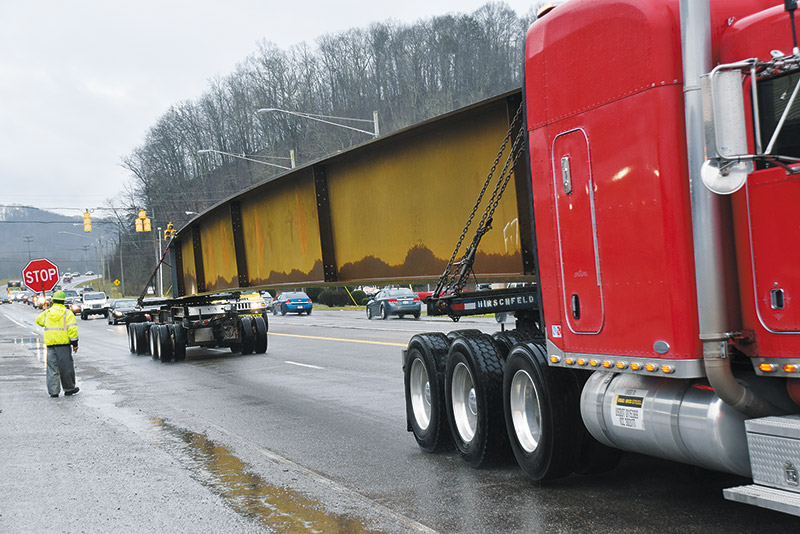 Steel girder beams – some of them 100 feet long – began arriving last week for the new Clinch Avenue bridge over the Clinch River, creating just a few minor traffic backups when the special trailers pulled onto the site.

Motorists passing at the right times could watch as a giant crane lifted each of the heavy beams off their trailers, one girder per trailer, and stacked them up at the south approach to the new bridge.

The beams were to be set one by one onto barges in the river below before being lifted into place between the six concrete bridge piers and two abutments. They will be the supports for the bridge deck once they are all in place and fastened down.

"Nine deliveries of steel exceeding 100 feet in length each" took place last week on the south end of the project, said Lynn Murphy, project coordinator for the bridge for the city of Clinton.

The trucks and trailers were staged on Carden Farm Road, and one at a time was driven to the site, unloaded, and then driven away before the next one was sent.

More deliveries – this time to Riverside Drive from Meadowbrook Street -- were scheduled for this week, Murphy said.

As the girders are moved into place atop the piers, the new structure will start to look like a bridge.

For more than a year, work has been done building the piers and approach abutments, which for the most part are not visible to passing motorists.

The bridge girders will be visible, however,

Besides the long steel girders, there will also be nine shorter concrete beams.

All of the beams will rest on top of and connect the six bridge piers and the north and south abutments, which have mostly been completed.

The nine concrete beams will be used for the shortest span over the river, between Pier 6 and Abutment 2, Murphy said.

The piers are numbered starting on the north side of the river.

The rest of the piers and Abutment 1 will be connected by the longer steel beams.

Excavation is in progress for Abutment 1, and "installation of almost 200 steel beam pilings within the foundation will begin soon," Murphy said in late January.

Some work has been delayed by the recent rains, however.

Abutment 2 is already completed, as are piers 2 through 6.

Work is about to be wrapped up on Pier 1.

The TDOT Lewallen Bridge Replacement Project began on Sept. 17, 2018, and is scheduled for completion by Aug. 31, 2021, Murphy said.

After the new bridge opens to traffic, the Lewallen Bridge, a longtime downtown landmark better known as the Green Bridge, will be demolished and removed.

With that, a piece of Clinton history will be gone forever.