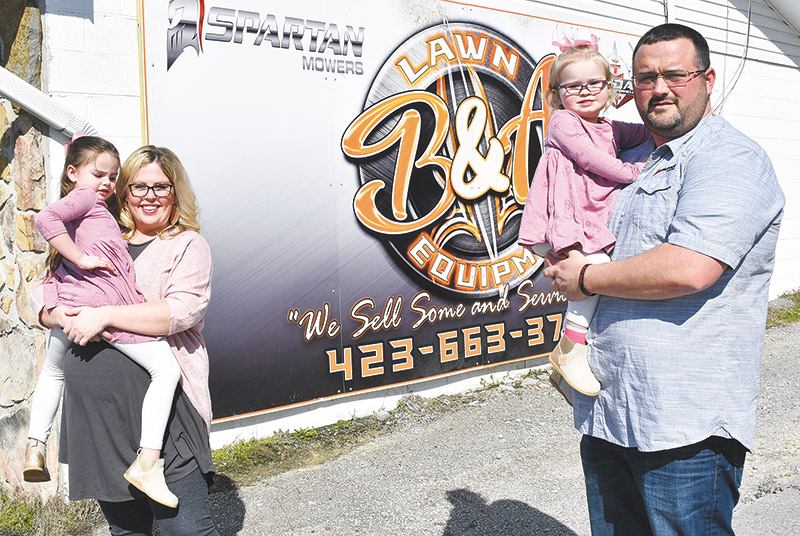 A new dealer of powered lawn and garden equipment and side-by-side utility terrain vehicles (UTVs) plans to open this week at 179 Clinch Avenue in Clinton.

B&A Lawn & Equipment will carry the Husqvarna line of lawnmowers, leaf blowers, weed trimmers, chainsaws and riding mowers, including zero-turn models, said Brandon Allen, who owns the store along with his wife, Ariel.

The store also will carry the Spartan brand of commercial zero-turn mowers and the Intimidator brand of three- and six-passenger UTVs.

It also will offer parts and service on those items and most other brands of powered lawn equipment as well, Allen said.

Allen moved the business here from Helenwood, where he still lives with his wife and two daughters, ages 2 and 5.

Before opening that store about a year ago, he was in the lawncare business for several years, he said.

The new store is just off the south end of the Lewallen Bridge on the east side of Clinch Avenue, next door to the Town Talk convenience store.

Allen said the building originally housed a TV store/repair shop, and later had other tenants, including a motor sports dealer.

Husqvarna is a well-known high-quality power-equipment manufacturer based in Sweden, while the Spartan commercial mowers and the Intimidator UTVs are made in Batesville, Arkansas.

The Spartan zero-turn mowers start at $3,899, and the UTV prices begin at $10,500, Allen said.

Financing is available through the manufacturers and third-party lenders, with terms of zero-percent interest for up to 48 months on some items, and deferred payments and terms up to 84 months, he said.

"We will service all brands, not just the ones we sell," Allen said. The store will also have some used mowers, UTVs and other equipment for sale.

Allen will have one full-time employee in the store besides himself, he said.

His wife is a registered nurse who teaches health occupations at Scott County High School. The couple is expecting their third child, a boy.

B&A Lawn & Equipment will be open Tuesdays through Fridays from 9 a.m. to 6 p.m., and Saturdays from 9 a.m. to 3 p.m.