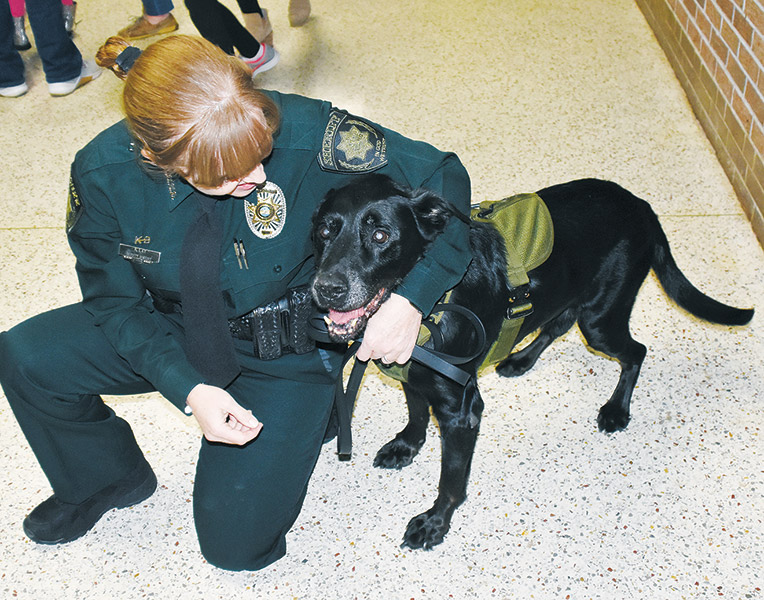 Less than a month after he was the star of his own retirement party at Anderson County High School, beloved Anderson County Sheriff's K-9 Al passed away last Thursday (Feb. 20).

The popular 11-year-old black Labrador retriever, who had been a sheriff's K-9 officer for seven years, suffered a series of seizures and had to be put down, sources told The Courier News.

A notice of Al's passing was posted on Facebook by the Sheriff's Office on Friday, drawing hundreds of comments from readers shocked by the news, who saw it on the original post and subsequent re-postings across several local Facebook sites.

Al's handler at the Sheriff's Office since 2012, school resource officer and deputy Kim Lay, who kept the dog as a personal pet after his retirement, was away at a conference in New Jersey early this week and could not be reached for comment.

The Sheriff's Office notice of Al's death read:

"BELOVED K-9 AL PASSES AWAY

"It is with great sadness that we announce the passing of K-9 Al. Al started with the Anderson County Sheriff's Office in 2009 and recently retired this year on January 23rd. For most of his faithful service, he partnered with Corporal Kim Lay and the Anderson County Schools. He was loved by all and made a tremendous impact in the lives of thousands of students and citizens across this County.

"Corporal Lay and Al were often asked to demonstrate his skills at local events and had the opportunity to show his abilities at the Tennessee Smokeys' Stadium for public safety day.

"More importantly, Al brought a sense of comfort and love [to] those he was around. He was a celebrity to most. A friend to many. But to us, he was a hero.

"Rest easy Al — we will take it from here."

Several hundred people attended the retirement party for what turned out to be, for most, their last chance to see this sweetheart of a dog.

"I've had him with me since 2012, and he's ready to retire," Kim Lay said at the time, adding that Al would now get to "enjoy home life with me. We're excited for him."

Many of those attending the party were kids who had encountered Al during his duties as Lay's partner while she worked as a resource officer in the county school system.

"He loves the kids and the kids love him," Lay said.

Unlike German shepherds, police dogs like Al who are Labrador retrievers are not trained for aggressive duties such as criminal apprehension. Instead, they are used to find drugs – such as in school lockers – and to conduct search and rescue operations, Anderson County Sheriff Russell Barker said in an interview at the party.

"We figured out a long time ago that labs aren't suited to criminal apprehension," Barker said. "They just don't have it in them to be aggressive like that. We decided labs were best for the schools. Al's demeanor with the kids is fabulous, and he's so approachable. The kids all want to pet him."

Al's replacement on the sheriff's K-9 squad is a 5-year-old black lab named Max, who was adopted from the Knoxville Labrador Retriever Rescue for just $250.

And as for Al, he "was none too happy about Max" taking over his job, Barker said at the time. "He really didn't like seeing Max going to work with Kim instead of him. Both live with Kim and her husband, Larry Lay, who is also one of our officers."

Kim Lay said she had been taking Al into the schools since she got him in 2012, and her most memorable moments with him were when she was doing K-9 demonstrations and Al was interacting with the kids.

"He's just always loved that, and so did the kids," she said.

During the retirement party, Al showed off his friendly nature, seeming to be just as excited to see the kids as they were to see him. He greeted everyone with his tail wagging, and never shied away. "It's just the way he is," Lay said.

His life of leisure in retirement, though, turned out to be way too short.