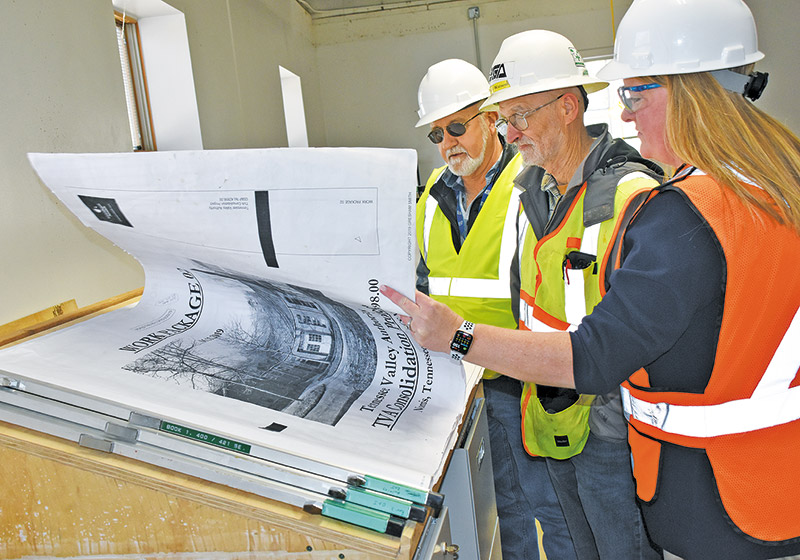 Renovation and expansion of the historic Norris TVA Engineering Laboratory is underway, and the population of Tennessee Valley Authority employees working there will soon expand to nearly 100 from the current 45, the federal utility says.

In conjunction with the lab's expansion, workers are building sheds to house up to 50 boats and adding workshops for repair and maintenance of the boats, which TVA uses for work throughout its system of rivers and lakes in East Tennessee, said Dennis Yankee, senior manager of engineering and field services at the Norris lab.

To accommodate construction of the boat sheds and workshops, TVA is removing part of a hillside and using dump trucks to haul away up to 20,000 cubic yards of dirt to three area landfills, Yankee said.

"There's a lot of dirt being moved," he said. "It's about 1,500 truckloads. We're ahead of schedule now – about 60 percent done. The hill behind the lab – where we're building the boat sheds -- had to be lowered by about 10 feet."

The trucks began hauling out the dirt early last week, and TVA is "taking care not to get dirt on the roads," Yankee said. "We wash the trucks as they leave the landfills."

None of the dirt is going to the Bull Run Steam Plant site; it's being taken to the Waste Management Chestnut Ridge Landfill, Meridian Waste Riverside C&D Landfill and the Meridian Waste Poplar View Landfill, he said.

TVA is relocating some of its engineers and other workers from downtown Knoxville to the Norris lab as part of the agency's strategic real estate reorganization, Yankee said.

"We will eventually have somewhere less than 100 folks," he said, with some TVA business functions moving there from other field locations in East Tennessee.

"I've got about 20 people in downtown Knoxville at the Summer Place building who will be coming out and joining our group already here [in Norris]," Yankee said. "It will make us a stronger organization. We will have fisheries biologists and environmental staff from Walnut Orchard and from downtown Knoxville."

All of them will share equipment and boats at the Norris site and "not have redundant equipment," he said. "There will be cost savings."

As for renovation of the laboratory buildings, which date to the construction of the dam in the mid-1930s, "Those buildings have changed hands from TVA to the Bureau of Mines and back to TVA," Yankee said. "They are dated.

"As part of TVA's strategic real estate effort, we are looking at these buildings, and the effort now is to pick out core facilities, and improve the quality of the ones we keep," he said.

Cindy Light, TVA's Norris project manager for Strategic Real Estate, said the renovations began with the largest structure, Building B, and include buildings A and C.

"Building C was shut down for years," she said. "We decided to renovate it for the people from Summer Place who are moving in here. We cleaned it out and removed all of the asbestos, and we should be able to move into it by summer of 2021."

Matt Williams is TVA's manager of field testing at Norris, and he has moved his office into the already renovated Building A, which is near the entrance to the laboratory complex on Pine Road.

"We are thankful for the community's interest in our efforts here," he said.

To help prevent damage from the heavy trucks to Norris utility lines under the roads, TVA has installed thick, heavy steel plates over them in two places.

"We worked with the city to minimize impact [from the trucks] and to avoid water-line breaks," Yankee said.

Norris also will be compensated an unspecified amount for wear and tear on city streets from the trucks hauling the dirt, TVA ombudsman Wilson Taylor told the Norris City Council during its February meeting.