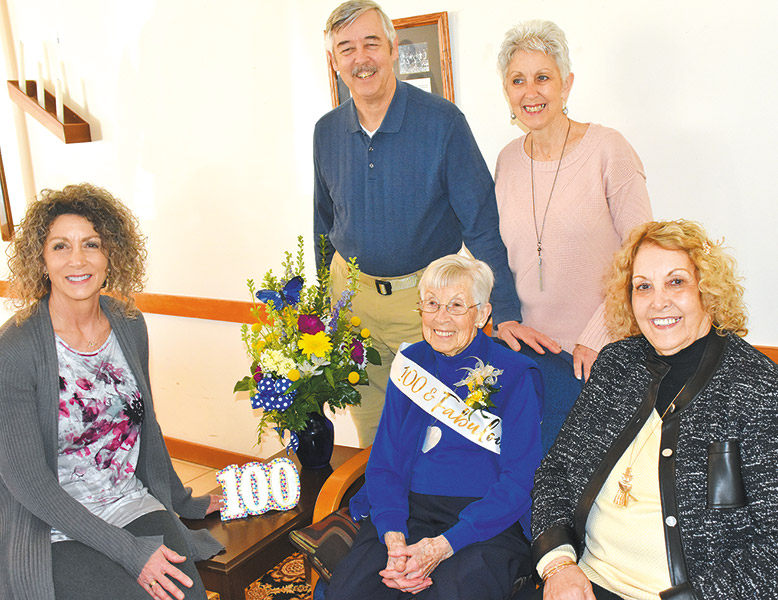 Betty Lovell turned 100 on Friday, Feb. 28, and during her birthday party on Saturday at the Norris Religious Fellowship, she said turning the century mark really wasn't anything special for her.

"Today feels just the same as it always does," she quipped.

But she did have great praise for her adopted hometown, Norris.

"I've lived here 70 years, and I sure like it better than where I came from," she said, which was Rochester, New York.

She moved to Oak Ridge first, settling there in 1944 while her husband, Reginald T. Lovell, was serving in the Army during World War II.

Betty Lovell moved with her husband to Norris in 1953, while he was working at the K-25 plant in Oak Ridge, and she raised her four kids there – three daughters and a son. They first lived on East Circle Road, then moved into Betty's current home on Dogwood Road in 1955.

All four of her children graduated from Norris High School in the building that now houses Norris Middle School.

"This is a very nice place to live," Betty said as longtime friends and neighbors waited in line to greet her in the church's fellowship hall. Because nearly everyone in Norris knows her, the line remained long for most of the afternoon as the party carried on from 1 to 4 p.m.

Even Norris Mayor Chris Mitchell turned out to congratulate Betty on her special occasion.

All four of her children were on hand, too, although none of them lives in Norris anymore. Daughter Cris Whitlock lives in Nashville, as does son Denis Lovell. Daughter Kathy Wallis lives in Atlanta, and daughter Tomilea Dixon lives in Seminole, Fla. She is the one who organized Saturday's party, which included snack foods, punch and a large birthday cake.

Dixon said her father died 10 years ago, at age 90. He met his future wife in high school, she said, and they were together from then until his death. Their birthdays were just six days apart.