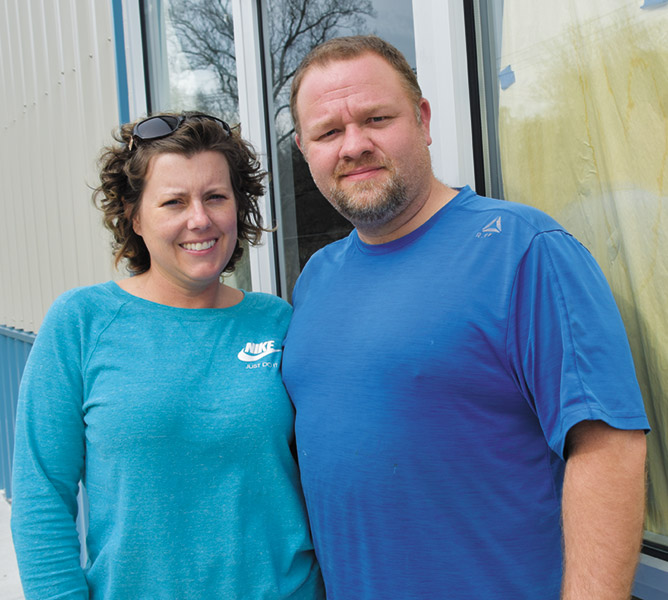 Parents will soon have a new venue for birthday parties and other special occasions, as Brian and Melissa Byrge are preparing to open the Our Back Yard party room, an extension of their Backyard Bouncers business in Clinton.

The party room, which will feature a variety of inflatables, will be part of a 5,000 square-foot steel building the Byrges have erected at 795 North Main St. It will take up about 2,800 square feet of the building, with the rest reserved as warehouse/storage space for the couple's inflatable rentals.

"We've been doing the Backyard Bouncers business for the past 10 years, but all of that has been only for delivery and setup on customers' property," Brian Byrge said. "This is the first time we'll have a space of our own to rent out for parties."

The Byrges were hoping to have the party venue open for business by last October, but they have been delayed mostly by the weather. While the actual building is up and nearly ready to go, the grading and paving of the parking lot has been put on hold because of all the recent rain, which made the lot a muddy mess, Brian Byrge said.

"We could get the building ready to go in a few days, but the parking lot is going to take a while longer," he said late last week. "Weather is the biggest factor."

Besides having the party room available for reservations, the Byrges also are considering some regular "open play" dates during which anyone could come, pay an admission fee, and enjoy the various inflatables and games.

"We think this is the first time there's ever been anything like this in Clinton," he said.

Among the attractions in the party venue will be two obstacles, a 22-foot-high inflatable slide, a toddler unit, an inflatable basketball area, and a climbing wall, Byrge said.

There will be tables and chairs for parties, but the venue will not be serving its own food or drinks, he said.

"We are thinking of partnering with a pizza place to offer a pizza package for parties," Byrge said.

The Backyard Bouncers business will continue as well, he said. The business has its own website at backyardbouncerstn.com.