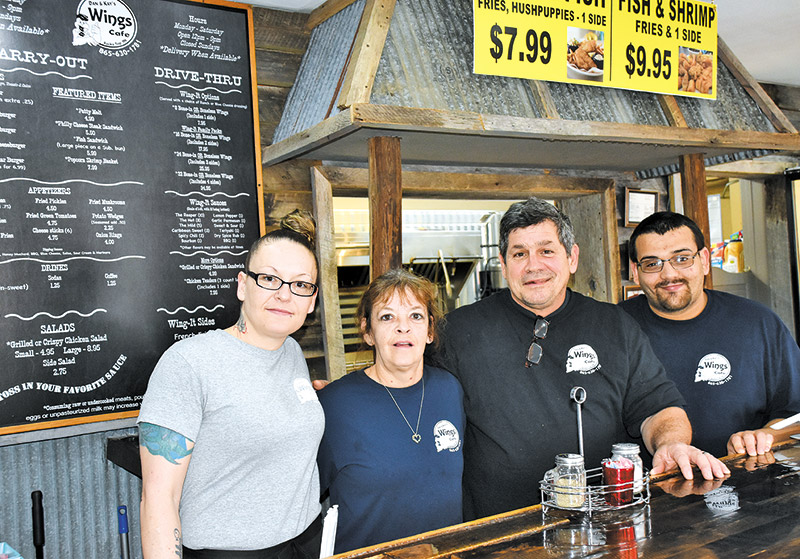 Chicken wings and a variety of sauces to enhance them are the staples of the menu at the recently opened Dan & Kay's Wings Café at 541 North Main St. in Rocky Top.

Served bone-in or boneless, the wings can be ordered drenched in a choice of 12 different sauces, each assigned its own spiciness level on a scale of 1-10, with 10 being the spiciest.

That honor goes to The Reaper; the other sauces and their heat ratings include The Hot (8), the Mild (5), Caribbean Sweet and Spicy Chili (each a 2), and, all at a mild 1, the Bourbon, Lemon Pepper, Garlic Parmesan, Sweet & Sour, Teriyaki, Dry Spice Rub and BBQ.

The menu notes that "Other flavors may be available at times."

These wings and their sauces are the handiwork of Dan Perotti, chief chef and co-owner of the eatery along with his wife, Kay, who makes the home-style salads (think potato and pasta salads and coleslaw) and desserts (such as strawberry cheesecake and banana pudding) the café serves.

Kay Perotti's daughter Laurie Campbell is the leader of the waitstaff, and also helps with deliveries. The café, next to the Sonic Drive-In, does mostly a takeout and delivery business. Delivery is available as far away as Clinton and Norris.

Patrons can eat inside, where there are just a few four-person booths and a two-person table.

The Perottis opened the café last summer after running the larger Fox's Steak & Grill at the other end of Main Street for three-and-a-half years. When their lease expired on that property, they chose to move to the new, smaller location close to Interstate 75. Dan & Kay's also does a good business in its fish dinners, featuring flat farm-raised catfish fillets, for $7.99, and a fish and popcorn shrimp dinner for $9.99.

Other menu items include appetizers such as fried pickles, chili cheese fries, fried green tomatoes, cheese sticks, fried mushrooms, potato wedges, onion rings, and the newly added jalapeno-shrimp and Monterey jack-shrimp poppers.

There are also hamburgers and cheeseburgers of several varieties, along with Philly cheesesteak subs, popcorn shrimp baskets and fish sandwiches.

The Perottis live in LaFollete, where they briefly ran a wings café before moving to the first Rocky Top location.

Dan Perotti worked as a moving van driver for Allied Van Lines for 23 years before retiring and starting in the restaurant business, he said.

Dan & Kay's Wings Café is open from noon-9 p.m. Monday through Saturday, but is closed on Sundays. The eatery has a Facebook page and website.