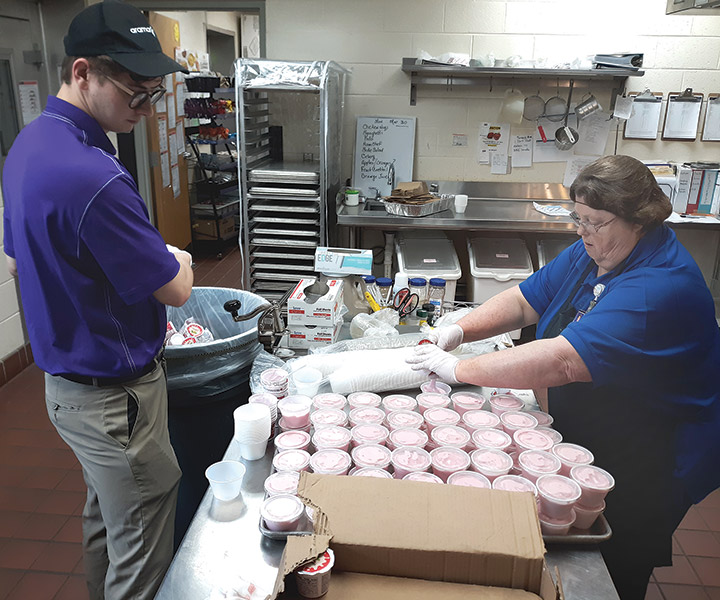 Here's a list of some of the businesses, government offices or services, services and events that we know are either closed, canceled, still open, or operating under modified hours and/or procedures in response to the coronavirus emergency:



CLOSED

• Anderson County Schools and Clinton City Schools are closed until at least April 6.

But the Clinton City Schools system will be serving free "grab and go" breakfast and lunch meals for children through 18 years old at North Clinton Elementary School. Breakfast hours are 8-9:30 a.m., and lunch hours are 10 a.m. to 1 p.m. Adults may get breakfast for $3 and lunch for $3.50, but kids eat free. This service is not limited to Clinton City students, but all children must be present to get a meal.

Anderson County Director of Schools Dr. Tim Parrott thanked Clinton City Schools Director Kelly Johnson Monday at the monthly Anderson County Commission meeting for partnering with the county to provide these meals.

"They (Clinton City Schools)had the site already set up," Parrott said. "It's important we can keep feeding our students."

• Clinton Community Center (101 Hicks St.) will remain closed at least until March 30. All recreational activities including youth softball and baseball are canceled until further notice.

• Clinton Senior Center closed as of Monday, March 16, and will remain closed until further notice.

Also suspended is the on-site meals program. Functions of the Anderson County Office on Aging, also based at the Senior Center, are continuing. Staff are doing a complete cleaning of the center while it is closed, a spokeswoman said Tuesday.

• Many churches are going to online services only at this point, according to the Anderson County Chamber of Commerce. Check your own church for updated information.

• Oak Ridge Senior Center is closed until further notice. As a result, the ETHRA Senior Nutrition Program Congregate Meal program (on-site meals) also has been suspended.

• Oak Ridge City Court will be closed until Tuesday, March 31.

OPEN

• Most Clinton, Norris, Rocky Top, Andersonville and other local restaurants are open for business for now, although some have limited their operating hours and some have switched to drive-through takeout business only, including Clinton's Dunkin' Donuts.

• Shoney's of Clinton is open 6 a.m. to 9 p.m. daily, and also offers Door Dash meal and buffet meal delivery. Normally, the restaurant, at 2405 Charles G. Seivers Blvd., is open until 10 p.m. Sunday-Thursday and 11 p.m. Friday and Saturday.

Tuesday morning Shoney's released the following statement:

"We are practicing the required social distancing guidelines suggested by the CDC. We are very frequently sanitizing our restaurant, including changing the serving utensils, sanitizing restrooms, door handles, and any other areas that may be touched by our guests.

"We are very interested in providing the best food available to our guests, whether they choose to dine-in with us or as a take-out order. You can find Shoney's menu at www.shoneysknox.com/menu. We have several options for our guest to choose from:

• We will provide take-out boxes for our guests to come in and select items from the Fresh Food Bar (buffet), and then take it home.

• We strongly suggest calling Shoney's for your take-out order, as we do not offer online ordering. 865-494-7295 in Clinton.

• However, Door Dash guests can order online and select the option to pick up the order themselves, saving them delivery costs.

• If guests do not wish to enter our restaurant, they can call us when they arrive in the parking lot and we will bring their take-out food to them.

We are taking this challenging time to continue our excellent cleaning procedures. This opportunity provides for us to conduct ongoing training with our staff on personal hygiene and cleanliness. We are proud of our excellent health department scores; in Clinton the last score was 100."

• All area Walmart stores are open from 6 a.m. to 11 p.m. daily instead of the usual 24 hours a day. This allows the staff to clean the store and restock shelves during closed hours.

• The ETHRA Senior Nutrition Program Home Delivered Meals ("meals on wheels") is still operating, with home-delivered meals.

• Chick-fil-A stores systemwide have closed their dining rooms until further notice, but the drive-through lanes remain open, the company said,

• Anderson County EMS will provide care to those with COVID-19, or suspected to have COVID-19, as well as continue to provide care to those who need an ambulance for other reasons.

• The Clinton Public Library continues to open as regularly scheduled, but has canceled all programs that were scheduled through March 30. "The Clinton Public Library follows the schedule of the Anderson County Courthouse," according to an announcement. "As such, if the courthouse closes, the library will too. Until that time, we will remain open." In addition, the library says it has developed the following prevention and response plan:

Items in the children's room such as puzzles, games, crayons, and coloring sheets have been removed until further notice. Plastic bins have been placed throughout the library for public use, and patrons are asked to place any materials that have been handled in the closest bin for sanitation.

"All scheduled events can be changed or canceled at any point," the library said. "All cancellations will be announced via social media or through our text service. The library can be found on Facebook at facebook.com/clintonpubliclibrary.

• With the continuing health concerns surrounding COVID-19, effective immediately, all Food City stores are temporarily adjusting store hours of operation to 7 a.m. - 10 p.m. daily, to give associates additional time to clean, sanitize and restock.

The first hour of operation from 7 - 8 a.m. will be specifically designated for customers 65 and older, as well as customers with underlying health conditions to shop to avoid busier shopping periods.

• Food City is working diligently to continue to maintain stock levels to service our customers and are in constant communication with supply chain teams, a release from the store said.

"We encourage you to continue to monitor this evolving situation and closely follow the CDC recommendation and guidelines. Please visit coronavirus.gov for the most accurate and up-to-date information," Tammy Baumgardner said via a press release.



CANCELED

Anderson County Director of School Tim Parrott announced Monday night during the Anderson County Commission meeting that the 2020 prom has been canceled. Parrott also told County Commission the University of Tennessee has informed the system that graduation exercises can not be held at Thompson-Boling Area. Parrott said the school system will look at other locations, but the possibility that no graduation exercise will take place is still an option.

Also canceled by the school system are "all field trips," including the annual field trip for students to Washington, D.C.

The state has also waived ACT testing for high school juniors.

Tuesday morning it was announced through Clinton City Lions Club the 2020 Spring Antique Fair has been canceled.



SPECIAL NOTICES

Powell Clinch Utility District, which provides natural gas service to the area, said it is "suspending disconnections for nonpayment effective immediately. This applies to all residential and small commercial accounts."

"While services will not be disconnected, bills will continue to accrue," the Rocky Top-based utility said. "Customers can contact customer service at 865-426-2822 or 423-562-2795 with any questions and to learn more about payment options and assistance. In addition, customers in need can also visit our website to learn more about energy assistance programs: powellclinch.com/energy-assistance.

"Payments are still being accepted at our payment locations, but alternative payment options are encouraged and available which include: mailing a check, paying by phone, or paying online at pcud.org or powellclinch.com."

• Tuesday morning Anderson County Commission Chairman Tracy Wandell sent the following letter to Dr. Tim Parrott:

"Dear Dr. Parrott,

"Thank you for your leadership and your entire school department for everything being done for our County and our kids.

"I wanted to ask if you would consider having our teachers provide instructional training via Channel 95 during this period of closure for our school system. I think back to the days of watching Saturday morning cartoons and learning from those small spots about government and English. Conjunction junction what's your function!

"I think it would be a great way to keep our kids engaged and even provide the ability for them to see their teachers in a way that they can relate to. Maybe 15 or 20 minute sessions where each teacher who would like to provide a series. For those students who watch could go into the system and perhaps login at that very time to gain the credit. I know I make it sound easy and it is not.

"I just think using Channel 95 as a tool for students and the school system at this time would be very beneficial. We could also include City of Clinton if you think that would work. I know our teachers would make it a fun experience and even possibly enjoy it as well. I would also encourage you and the Mayor to use Channel 95 as a platform to give updates to the community."

Monday night Dr. Parrott told commissioners that high school and middle school students are prepared for academics from home if the need arises. He said the system will have a plan in place to address the needs of elementary school students should the school system not be able to reopen as scheduled in April.



"We are exploring alternate education to make sure all of our students ere being taught," Parrott said. "If we have to go further than April 3, we will go further."

• Dr. Parrott also informed commission that food in place at the schools is being donated to area churches.

• Anderson County Commission also resported Monday night that Comcast will offer free internet during the COVID-19 threat.