'We can play better than this. We HAVE played better than this'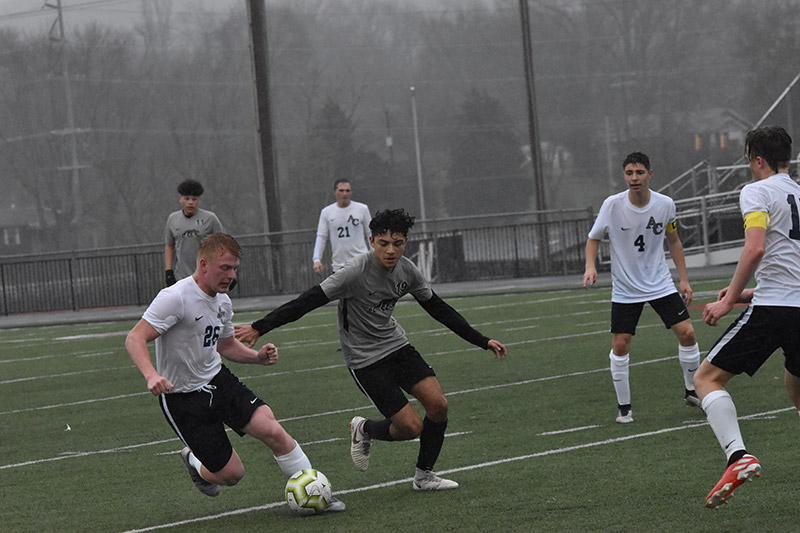 It was a wet, miserable game as Anderson County soccer traveled to Powell High School on March 10 to face off against the Panthers. The Mavs lost 5-0.

For the first 30 minutes, the Mavericks held their own against the Panthers, getting close to the Panthers' goal multiple times and controlling the ball well on the wet field.

With 12 minutes left in the first half, Powell scored its first goal, and it was a downhill slide from there. The second came with two minutes left in the first half.

Treythan Beaty was the goalie for the Mavericks, and, despite having a rough time of it overall, had some fantastic plays, including a block with eight minutes left in the first half where he had to scramble across the ground to beat Powell's offense to the ball, falling on it hard but keeping them from scoring. Another block came with 26 minutes left in the second half after a hard kick into the top of the goal. Beaty jumped and tipped the ball just enough to send it over the goal and out.

The Mavericks did seem on the verge of scoring multiple times, but their closest came with eight minutes left in the second half. After a throw-in by Dalton Andrews beside Powell's goal, AC's offense tried their hardest to knock the ball that last couple of feet past the goalie. Unfortunately, though, Powell's players lined up in a solid wall between AC and the goal, blocking the ball from the goal line with room to spare. The final minutes of the game passed quietly after an injury occurred on the field, taking away any chances of the Mavericks scoring a last-minute goal.

Head coach Ron Roskelly admitted the team had a hard time.

"Our starting middle defenders have both been out, so three of our four defenders had never played high school ball, and that really hurt us," he said. "Plus, they had some big strong dudes that could really play, they were coached well and pushed high. They put some pressure on us that we hadn't seen yet."

Roskelly said that after spring break, the team should be back to full strength, but with the countywide closure of all schools, whether that will matter will be something only seen in time.

Still, Roskelly said he was proud of the team's efforts.

"They didn't quit," he said. "They were clearly playing a good team, but they fought until the end. That header that ended the game was evidence that they were still playing to win.

"We didn't just fall down and take it. We can definitely play better and we definitely have played better. It was a tough game and a huge learning lesson for a lot of the new guys in the field."

Roskelly said especially the team plans to work on passing.

"We didn't get many opportunities, but when we did, we squandered most of them. We have to work on, when we get an opportunity, taking advantage of it and executing in those hard moments."

With school canceled, Roskelly says he won't be able to work with his players.

"Hopefully the guys will work on their own and keep their fitness up, but we'll just have to see how it goes," he said.