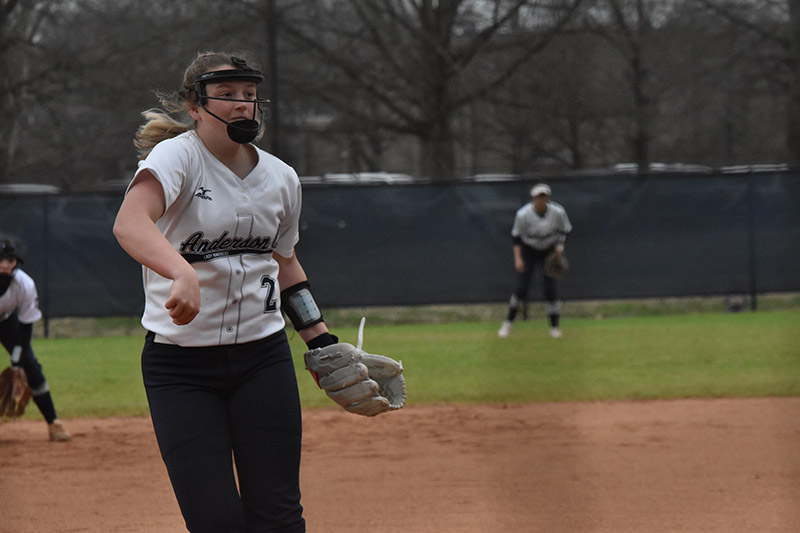 Lady Mavs have had a mixed week to start the softball season, starting out with a 15-5 win against Karns in their first league game of the season on Monday, March 9.

Audrey Lankford dominated on offense that game, with three hits that scored four runners for the Lady Mavericks.

Behind Lankford, Abbie Buswell and Hannah Hooks both finished with two hits apiece, while Jada Reeves batted three runners in for the Mavericks.

Meanwhile, Reece Simpson pitched on defense for the Lady Mavs, managing nine strikeouts across six innings, including 18 first-pitch strikes and a WHIP (walks plus hits per inning pitched) of 1.33.

Two days after their strong win against Karns, the Lady Mavs hosted the Lady Devils from Halls in a game where Anderson County lost 14-5.

Abbie Buswell finished with the most hits for Anderson County that game, managing three, while Makayla Simmons and Reece Simpsons pitched three innings each for the Mavs. Simmons managed nine first-pitch strikes.

On Thursday, March 12, Oak Ridge traveled to Anderson County to face off in a game the Lady Mavs dominated from start to finish, with Anderson County taking a quick 10-run lead in the first inning before finishing the game 16-4.

Lea Elkins contributed strongly to that win, with four runners batted in across two hits. Jada Richards finished with four quality at-bats, the most of the team, while Makenzie McNeal pitched. McNeal managed seven strikeouts that game, finishing with 13 first-pitch strikes and a WHIP of 1.50, a stark contrast to Brook Rayfield's (the pitcher for Oak Ridge) 5.73.

And finally, the Lady Mavs ended their final game for a number of weeks with a decisive 12-3 win over Coalfield, taking a 4-0 lead in the first inning and only increasing it as the match went on.

Makenzie McNeal pitched against Coalfield, managing 13 first pitch strikes and two strikeouts across five innings, and walking away with a WHIP of 1.00. On the offensive side, Lea Elkins walked away as the MVP, with five runners batted in, while Skylar Newby finished with three hits and Mallorie Overton finished with three quality at bats.