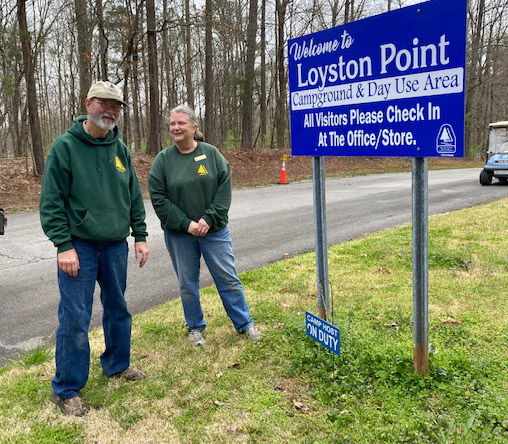 With the coronavirus scare shutting down most people's usual routines of life, there seems to be very little "normal" left.

For now, until who knows when, restaurants have been ordered by Gov. Bill Lee to keep their doors closed to inside dining. People are being asked to stay at home and avoid crowds.

And people are fighting each other and harassing store clerks over scant food, toilet paper and cleaning supplies – a situation brought about by hoarding at the hands of a minority who have created artificial shortages and their resulting havoc here in the Land of Plenty.

Some people, though, are trying to make sure life goes on as close to normal as it can possibly be in these trying times.

That includes Lisa and Bobby Harless, onsite managers of the Tennessee Valley Authority's Loyston Point Recreation Area near Andersonville.

There, the campground is still open and welcoming guests, in part because the Harlesses are taking constant care to keep the camp facilities as clean and disinfected as possible, they said at the site Sunday afternoon.

"We opened the campground March 15, and we already have 25 long-term campers registered," along with those who might stay just a weekend or a few days," Lisa Harless said.

"We have had a few cancellations, but we've also had some campers come in who said they originally intended to go much farther away, but decided to stay closer to home with things the way they are right now," she said.

As for keeping the campground clean and safe, Harless she and her staff are following a "four-page program … for additional sanitizing and disinfecting."

"We have the cleanest restrooms anywhere," she said. "We even go so far as to disinfect our trash cans and dumpsters, and the handles on our ice machines. We are very focused on protecting our workforce, and we make sure they wear personal protective gear while cleaning."

Loyston Point, which has six employees now and will have 10 during the summer season, "plans on remaining open unless TVA shuts us down," Harless said.

Lisa and Bobby Harless are West Virginia natives who moved to Loyston Point to become full-time employees at the campground in 2018, after being regular campers there for the previous five years. They have been the site's managers since May 2019, and they live on the grounds. Bobby Harless is a former coal mine inspector for the state of West Virginia, he said.

The cleaning protocol was issued by the campground's contract operator, Recreation Resource Management of Phoenix, Arizona, which operates more than 150 federal, state and local park sites in nine states, from California to Michigan. In East Tennessee, the company also manages campgrounds and park facilities in the Sevierville, Lenoir City, Jefferson City and Elizabethton areas.

On its website (camprrm.com), the company suggests that "camping may be the safest place outside your home" to stay protected from the COVID-19 virus.

"It is our belief that camping is the safest form of travel when it comes to staying healthy," the website says. "RVers and tent-campers alike bring their own private spaces to the campground, spaces that they clean and control themselves -- it's like taking your own house with you on your trip. Most of the public campgrounds we operate were actually designed for social distancing, with a significant amount of space and privacy between campsites."

Additionally, "Most medical professionals agree that being outdoors, away from polluted city air, in the sunlight and open spaces is a healthy way to boost one's immune system," the Recreation Resource Management website says. "Studies have shown that time in nature is an antidote for stress: it can lower blood pressure and stress levels, enhance immune system function, reduce anxiety, and improve mood. When self-quarantining from the virus, why not also self-quarantine from fear and stress as well?"

As for the company's cleaning procedures at Loyston Point and other facilities, the website notes:

"In response to the coronavirus, we have enhanced our already comprehensive cleaning and sanitation procedures to be even more rigorous. … We have ongoing staff briefings regarding our enhanced protocols to increase the frequency of cleaning all public areas (stores, bathrooms, marinas, rental cabins and RVs, etc.) and have continued the use of hospital-grade disinfectant.

"We have increased the frequency with which we disinfect not only bathrooms but all public contact points such as trash can lids, faucets, and fee stations."

To make reservations and learn about Loyston Point campground, visit the facility's own website, loystonpoint.com.