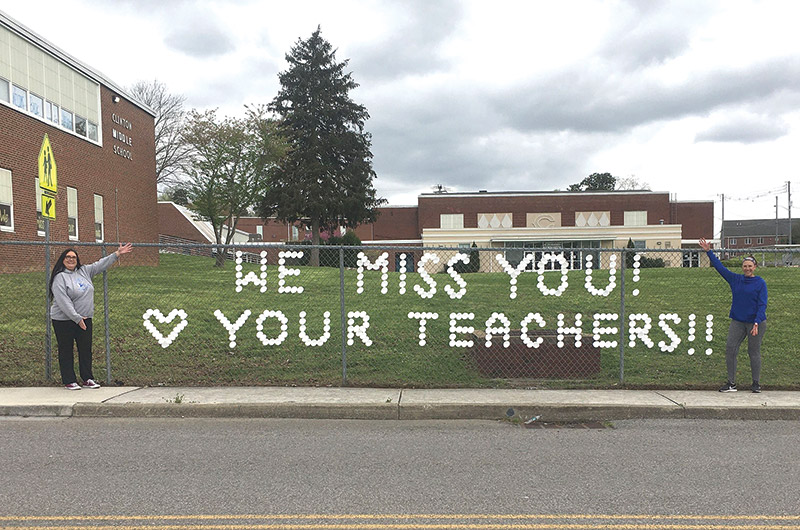 To begin, we are so proud of our staff and students for stepping up in the face of these unprecedented life-changing events that have transpired in the past few weeks.

At the very minimum, I'd say we've made at least 1,300 phone calls as a staff, contacting the home of every Hawk twice. The number is likely WAY higher than that!

If you don't follow us on Facebook, please do so to continue to see the amazing things our students and staff are sharing.

Here's a rundown of how we're doing with the new normal:

It all starts with Art. The week before spring break, Mr. Richardson put out a virtual assignment for his students to create some great visual art. An eighth-grader, Dakota, took on this assignment and shared it with us on video.

On the musical end of the Related Arts spectrum, the band director, Mr. Schloss. reports that he has given private lessons to about 25% of his students via phone calls and Google Hangouts.

A portion of his students are also signed up for additional voluntary lessons to continue mastering their instruments.

In the sixth grade, Mrs. Picarella, science teacher, asked her students to make paper airplanes and run several trials to find the average flight distance. Students then made modifications on their planed to perform the trials again.

Down the virtual hallway in sixth grade ELA, Ms. Lauer, a self-proclaimed and perpetual technology beginner, has described this new way of teaching as "an interesting adventure" that has her learning along with her students in the ways of using audio and video technology to present materials and tutorials.

She came to the realization of how much of a game-changer this can be in the future when she or her students are out sick.

"This way," says Ms. Lauer, "we won't miss a beat of instruction, and the sub just has to concentrate on managing classroom behaviors and monitor student work."

A most-valuable lesson learned is that the kids aren't shy with the learning online concept. They are asking more questions and working harder for clarification. This is their forum.

In seventh grade, Mrs. Loveday described a "Poetry Share" Google Doc she opened up for students in Google Classroom for students to simply share their writing!

They can all go on and add at any time and they are using it. Mrs. Loveday even got a poem from one student she would've never expected to share in this way.

It's exciting to our students showing a willingness to open up and share their ideas. They are often so reluctant to share their writing in class.

Mrs. Loveday, and several other ELA teachers, also plan on leading class discussions next week using Zoom.

Mrs. Crabtree, an 8th Grade Math teacher, jumped on the Zoom train early on and was teaching students Math concepts live on Zoom before Spring Break, something she has continued to share with staff via Google Hangout meetings this week.

She has set up a daily Zoom meeting where she can answer questions live. Sometimes those questions are about their math work.

Sometimes they just want to feel connected to someone from school and we are just chatting about our new "safer at home" lives.

There are simply not enough of the right words to express how hard our Special Education teachers have worked to ensure a quality education and support for their students. Each day, they spend hours communicating directly with families over the phone and online.

Mrs. Heiskell has reported that she helped just one of her students with Social Studies work over the phone for two hours. Just one.

Mrs. Wrinkle and Mrs. Gee have also discussed similar activities with their students and have provided their content teachers with detailed individual plans for students to get the most out of this new way of learning.

As a staff, we decided to kick off our first full week on remote learning with a Virtual Spirit Week. And we were recognized by the Tennessee Department of Education in Commissioner Schwinn's weekly newsletter for our online efforts.

Our Read a Book Day was a huge success! Our Read a Book Day posts reached 5,094 people on Facebook alone.

Mrs. Kuhens, of eighth grade ELA fame, started what we're calling "The Windows Project."

Teachers made posters to place in windows featuring messages of well wishes and motivation and pure love. Ms. Patalano (Ms. P), among many others, took this project head on. She and Mrs. Phillips, whose windows line Leinart Street are filled with beautiful notes.

Coach Householder and Ms. Lauer spent the better part of Wednesday making a sign out of cups in our fence that runs along West Broad Street.

It is truly a sight to behold and expresses our greatest collective sentiment as a Clinton Middle College and Career Academy staff: "We Miss You!"

Teachers are making videos with Screencastify and Loom and Flipgrid. They are reaching out with better ways to communicate at a distance with each passing day. They are sending out help and assistance but also love.

Students are responding, emailing, messaging us on Google Classroom. Their families are expressing gratitude for what we are doing to keep Every Student fed, loved, and educated Every Day.

The learning continues...