Operation Last Mile gives honor to retired American flags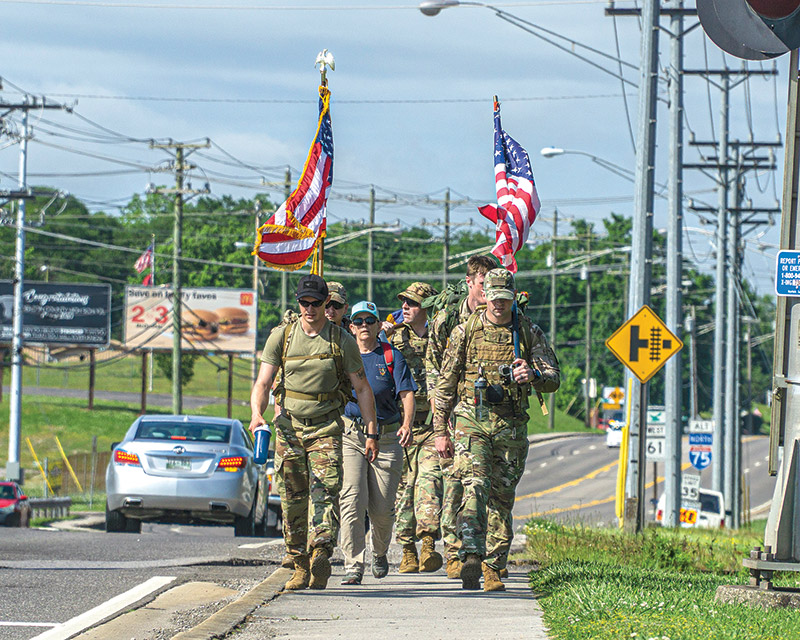 Honor, pride, duty, sacrifice.

There is something woven in the fabric that makes an American flag.

It isn't tangible, not in the sense that it is a piece of thread, or material, you can hold in your hands.

It is a thread, though. Shared by many who love their country, but more so by those who have served their country.

It is there — if you are willing to see it.

Sgt. Robert Reece and Sgt. Christopher Fairchild are part of that thread, that group who serve their country.

For them, the American flag is no mere symbol of "nation." They see and understand what is woven in the fabric of the American flag.

"The meaning behind it (the flag) is really unspeakable," Reece said. "There is so much meaning to the flag, so much pride."

There is a "flag code" for disposing of a worn flag.

It is saluted, it is burned.

But Reece and Fairchild have taken that code a step further.

Operation Last Mile, a march of honor for disposing of a flag, was held Saturday morning in Clinton. Service men and women walked down Charles Seivers Boulevard in the city, carrying a retired flag — folded accordingly — for its final disposal.

Reece and Fairchild, who are National Guard recruiters, came up with the tribute to a retired flag, not as a recruiting tool, but because they love their country and they love the symbol of their country — the American flag.

"We love our country, this flag, what our constitution stands for," Reece said.

"To promote that patriotism that so many feel and have."

And with the first march being held Memorial Day weekend, honoring the flag also served as a reminder to the sacrifices made.

"We love waking up every day and putting our uniform on. We are National Guard. We are active duty," Fairchild said. "This is not a recruiting event by any means. With this weekend, it being Memorial Day … We've all lost someone, or have friends who lost someone.

"There is a reason people sign up to fight for our country, for our freedoms," he said.

Operation Last Mile is planning another march for July 4.

The Clinton Fire Department offers a flag disposal box at all three of the city fire stations.

Citizens who wish to retire a flag are urged to use one of the boxes.