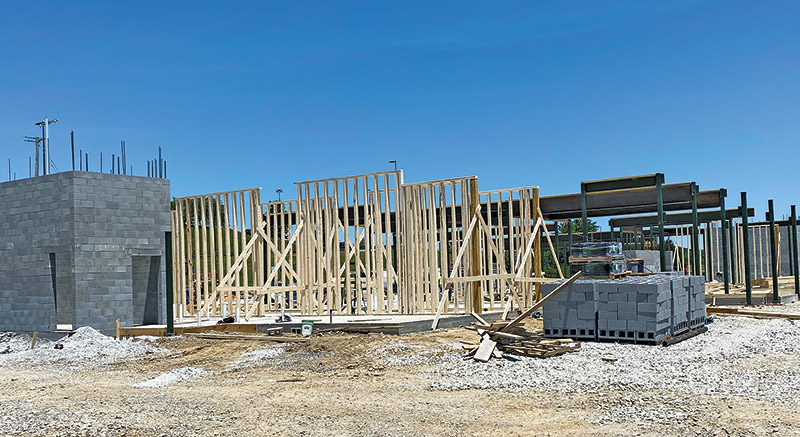 Steel and wood framing are now going up for the four-story Fairfield Inn & Suites building behind Taco Bell just off Interstate 75's Exit 122 in Clinton, and the building's walls will be put up as soon as that's finished, a company owner said Monday.

While the 80-room hotel and conference center won't be completed until probably next April, the new building should be up and under roof within four or five months, said Victor Patel, a partner in VRL Hotels LLC. of Jacksboro, owner and developer of the facility.

The $9 million hotel, being built on the site of a hotel that was torn down about four years ago, will have about 20 employees, Patel said. It sits next to Harrison's Restaurant, between Charles G. Seivers Boulevard and Walmart.

Knoxville-based Turnkey Construction LLC. is building the hotel, and it will be operated by Gibson Hotel Management, Inc., of Knoxville, Patel said. Turnkey Construction is owned by Dennis Patel.

Gibson Hotel Management was founded by its CEO, Michael Gibson, and now operates a variety of hotel brands in Tennessee, Kentucky, Indiana, South Carolina and the Cayman Islands. Those include several Fairfield Inn & Suites locations, including some in the Knoxville area.

"We are looking forward to having a property in Clinton," Joe Grieco, Gibson's vice president of operations and development, said earlier. "We also have a property in Powell [a Holiday Inn Express]."

Site preparation began in November for the Fairfield Inn, which will have about 3,000 square feet of meeting space, he said.

Fairfield Inn & Suites is a brand of the hotel conglomerate Marriott International, Inc.

"Clinton is a great place for us, and there is no other property there with the Marriott flag," Patel said. "The only meeting space available now is at the Holiday Inn Express [at Exit 122], but it has only about 600 square feet. Our meeting space will be able to accommodate from 125 to 150 people."

He said the new Fairfield Inn will have the same amount of meeting space as a similar Marriott property in Oak Ridge that is used by some of the Clinton businesses.

Besides business meetings, the new Fairfield Inn will also be able to host other, non-business events, including parties, Patel said.

Other partners in VRL Hotels include Vic Patel and Kenny Patel, he said. The construction company for the project is owned by Dennis Patel.

VRL Hotels already has hospitality properties in North Carolina, Georgia and Middle and West Tennessee, Victor Patel said. The company now has a Hampton Inn under construction in Paris, Tennessee.

Victor Patel, who's been living in Caryville for more than three years, said his company chose Clinton for the Fairfield Inn because some manufacturing plants here have been seeking a higher-end hotel with meeting facilities, and because Exit 122 is a popular stopping place for through traffic using Interstate 75.

Patel's company also owns and operates a liquor store on Andersonville Highway in Andersonville, the Liquor Depot. It's the only other business the group owns in the Clinton area.

Although the new Fairfield Inn will have meeting facilities, it will not have a restaurant, Patel said, adding, "We will have a breakfast room."

VRL Hotels manages all of its other properties, but chose to hire an established hotel operator for the new Clinton facility "because we are a growing company," Patel said.