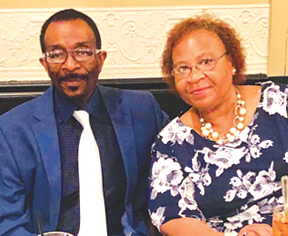 Asbury United Methodist Church of Clinton recently said farewell to its pastor of several years, the Rev. Cedric Jackson.

The Rev. Jackson has been appointed as the new pastor of Westtown United Methodist Church in Albany, Ga.

The congregation extends its thanks to him for his five years of ministry at the church.

The Revs. Clarence and Jackie Carter see double the opportunity in their new appointment in Anderson County.

They will serve both the Asbury United Methodist Church and the Haven Chapel United Methodist Church.

On July 1, the Carters became the new co-pastors at Asbury, one of Clinton's oldest African American churches, and at Haven Chapel.

"I met Jackie at Tennessee Tech University in Cookeville," Clarence Carter said. "Two years later we married and I joined the Air Force to earn a living."

"We had no idea that my military career would not only provide our financial needs, but it would also shape, develop and finance our spiritual growth for ministry," he said.

"During our 20 years in the Air Force, we lived In five different states and raised two sons. Craig and William.

"We taught Bible classes on base and at camp meeting. I completed a B.S. in music education and M.S. in business administration. Jackie and I attended Bible college at Heritage Church in Denver. I also earned 12 hours of graduate training at Denver Seminary as a master of divinity student.

"In 1995, we returned to Knoxville. We ministered with several pastors. After receiving our doctorate degrees in Biblical theology, we started the Bread of Life Ministry at home, including a weekly radio broadcast on WITA.

"We were blessed to travel and minister in Hawaii, Israel, and China."

The congregations of the Asbury United Methodist Church and the Haven Chapel United Methodist Church welcomed the new co-pastors during a "drive-in" worship service at Haven Chapel at 220 Raccoon Valley Road in Powell at 11:30 a.m. Sunday, July 5.

The Asbury United Methodist Church is at 405 West Broad St.

Connect with AUMC by calling 865-264-5277 or visiting facebook.com/AsburyUMCofClinton.