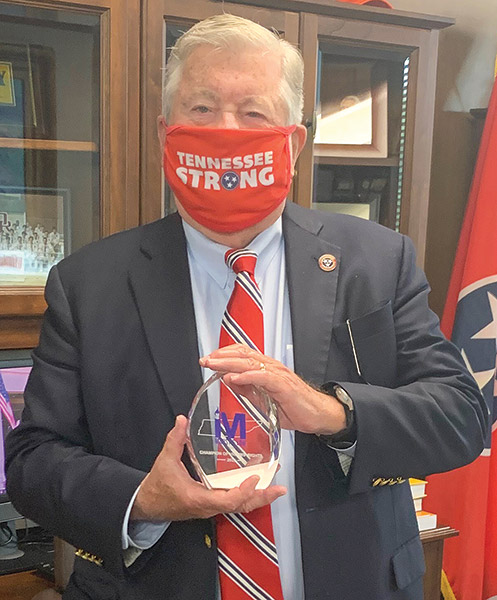 Marsy's Law for Tennessee presented Lt. Gov. Randy McNally of Oak Ridge with the Champion of Victims' Rights Award for his dedication to protecting the rights of crime victims in the Tennessee General Assembly.

"We are so grateful for Lt. Gov. McNally's dedication to protecting crime victims' rights," said Marsy's Law for Tennessee State Director Bonnie Brezina. "The thousands of survivors and families in Tennessee who are victims of crime each year deserve a voice. We can't thank him enough for fighting for them to be heard." Brezina presented the award Wednesday, Aug. 12, in Nashville. "It is all too easy for crime victims and their families to feel ignored," McNally said. "That's unacceptable to me and why I have spent my career fighting on behalf of victims."

"I am tremendously grateful for this award. I will continue to make advocating for victims a

priority, ensuring they are always treated with the dignity and respect they deserve."

Speaker Cameron Sexton from Crossville, Sen. John Stevens from Huntingdon, and Rep. Patsy Hazlewood from Signal Mountain have also received the award.

All of these leaders have endorsed Marsy's Law for Tennessee. a measure that will ensure that victims of crime have equal, constitutional rights on the same level as those accused and convicted of crimes.