ACHS starts season with wins against Farragut and Oak Ridge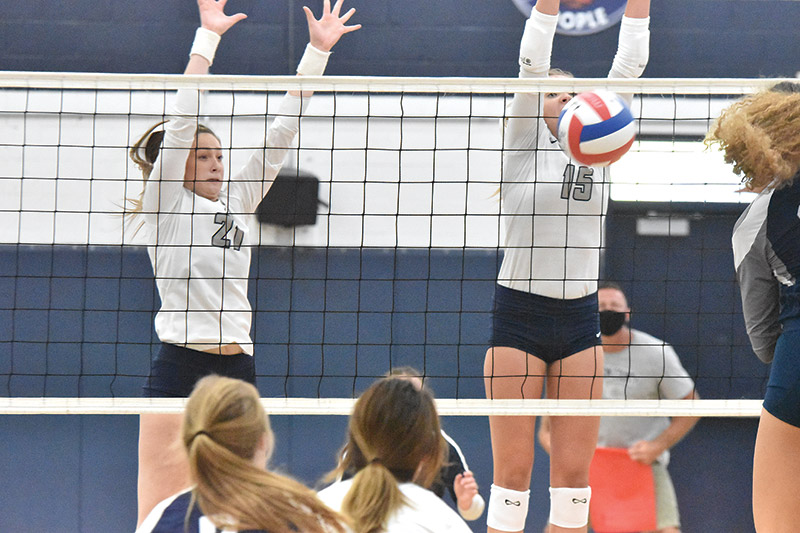 The Anderson County Lady Mavs volleyball team had a strong showing this week, beating two strong programs in Farragut and Oak Ridge.

On Tuesday, Aug. 18, the Lady Mavs hosted Farragut. The two schools started off mostly equal in the first set, with AC barely edging Farragut for a 25-23 win. The Mavs at one point held a sizeable lead, but Farragut found a hot streak at the end, winning five straight points to put the game on the line.

Farragut's girls proved they weren't anything to be trifled with in the next set, though, as they handily beat the Mavs 25-17 after gaining an early lead.

Unfortunately for the Lady Admirals, they couldn't pull that off a second time, and Anderson County won the next two sets with comfortable margins of 25-15 and 25-18 respectively.

Afterward, on Thursday, Aug 20, the Mavs hosted the Oak Ridge Lady Wildcats in a grueling, nail-biter of a game where the Mavericks took an early lead, winning the first set 25-20. Similar to the game against Farragut, Oak Ridge didn't take the loss easily, though.

The Lady Wildcats came to play and quickly gained a seven-point lead on the Lady Mavs that ultimately ended with the Mavs losing the second set 25-13. For the third set, despite Oak Ridge gaining an early lead similar to the second, the Wildcats couldn't hold it, and the Mavs came back to win 25-17, putting them up by one. With the game on the line, the fourth set was a close one, with the Mavs trailing for most of the game before making a seven-point comeback attempt that ultimately wasn't quite enough to edge out Oak Ridge.

With the tie-breaker set, Anderson County took the early lead, gaining a quick seven points on the Lady Wildcats before they scored. In a set that only goes to 15, that put them well out of reach of Oak Ridge.

Despite the Lady Wildcats trying hard to come back, the Lady Mavericks won the last set 15-9, securing a win against Oak Ridge, and giving them momentum going into their two away games next week.