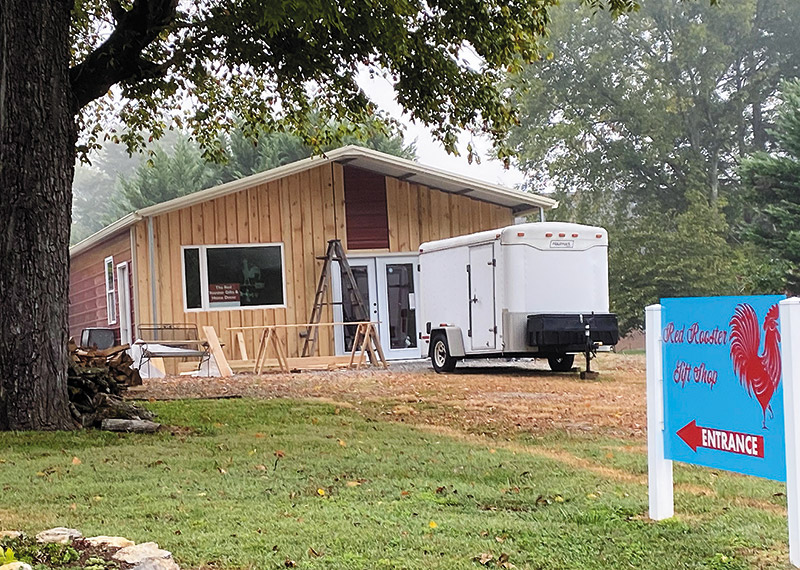 A new co-op style gift shop will open Nov. 4 in Clinton on Joe Owen Road, across from Habaneros Mexican Restaurant, just in time for the holiday season.

Marsha Fuller and her husband, George, who moved to the area two months ago from Upstate New York, are renovating a building behind their home to serve as the store, which will be known as The Red Rooster Gift Shop.

"We live on the property; it's our retirement home," Marsha Fuller said. "We have about 900 square feet of space in the shop, and we'd like to make it a co-op, with several vendors. It takes a lot of money to stock a gift shop."

Marsha Fuller, 60, is a retired dietician and said she operated a similar business where they lived before in the Rochester area. "That business allowed me to retire early," she said.

Her husband, who is 63, recently retired from a job in the nuclear-power industry, but still does consulting work and moved the couple to this area so he could work on assignments at TVA's Watts Bar nuclear plant.

The couple hopes that the gift shop, which they will run together, will help connect them with their new community, Marsha Fuller said. She also wants people to know that they're not from New York City.

"We're not city folk at all, we're country people," she said.

She's hoping to find some temporary vendors for the coming holiday season, then to close in January for more interior renovations, with plans to re-open early next year with a few permanent vendors.

"I think it's a great opportunity for someone who has a craft," she said. "And I'm willing to give them cheap rent in return for working in the shop. I don't really want to be tied down that much.

"Eventually, we want to bring in some people in who are independent self-starters. The goal is to pack these 900 square feet full."

Fuller said she's not planning to fill the shop with "expensive stuff."

"I'm the queen of $20 and under," she said. "Up north we had a lot of costume jewelry, home-decorating items and some boutiquey stuff."

She plans to have the shop open Wednesday through Saturday through the holidays, with normal hours 10 a.m. to 5 p.m., except Fridays, when the store will stay open until 8 p.m.

"We'll stay open later on Friday so we perhaps can pull in some of the Habaneros customers," Fuller said. "They really pack that restaurant."

The shop fronts on Bethel Road, but access for parking is from 204 Joe Owen Road.