11,298 had cast ballots by Tuesday morning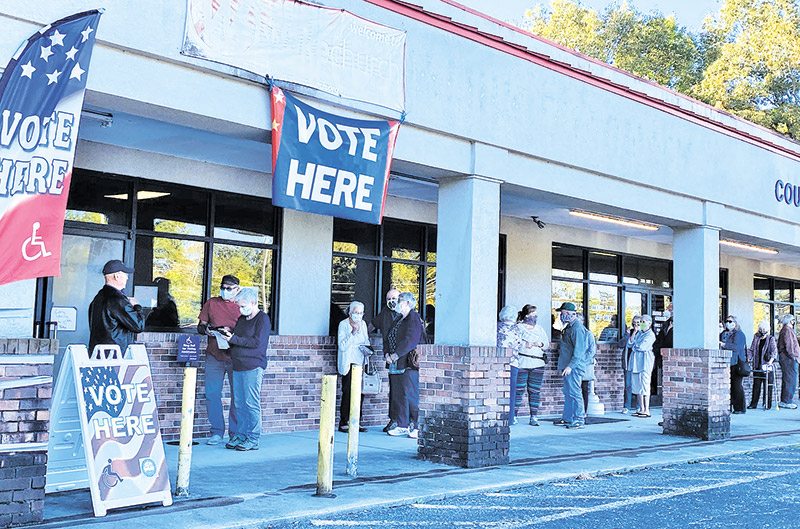 Anderson County is on "a record pace" right now in early voting, with a total of 11,298 having already voted as of Tuesday morning – 22-percent of all registered voters in the county, Elections Administrator Mark Stephens reported.

Early voting had been underway only five days by the end of voting on Monday, but already more than a third of voters expected to turn out for the Nov. 3 presidential election had voted, the numbers showed, compared with the vote total for the 2016 presidential election in Anderson County.

In that election, 30,502 total votes were cast, with then-candidate Donald J. Trump outpolling Hillary Clinton by a 64-percent to 30-percent margin.

"We're on a record pace right now," Stephens said. "With 22-percent of registered voters already voting, that's a pretty strong number."

That includes 2,012 absentee ballots that have already been received, according to the county's election website, ACelect.com.

Stephens said voters have not had to deal with long waits to vote at any of the three polling locations.

"We are seeing some lines," he said. "But they are moving quickly. The main lines are in Oak Ridge because it's a population center. We have a different location in Andersonville that is working very well, getting people through quickly. It's also moving quickly in Clinton, where we've had the highest voter turnout so far.

"It's deceiving when you drive up and see a line, because people are being spaced out for social distancing," Stephens said. "Oak Ridge has seen lines from the start. Clinton is the busiest, but it seems to be moving a lot quicker in Clinton and Andersonville."

Voters may vote in person at three sites in the county through the end of early voting on Oct. 29. The last day to request an absentee ballot is Oct. 27.

Locations for early voting are:

• The Anderson County Fair Association Building, 218 Nave St., Clinton;

• Midtown Community Center, (Wildcat Den), 102 Robertsville Road, Oak Ridge;

• Anderson Crossing Shopping Center, 3310 Andersonville Highway, Andersonville.

Hours for early voting are from 10 a.m.–6 p.m. Monday through Friday and 9 a.m.–noon on Saturday.

"We encourage everybody to vote early," Stephens said. "That makes Election Day more stress-free. It's a convenience factor. Normal turnout is about 65 to 70 percent, and it's going to be a little more than half who vote early this year.

"But a lot of people will still go vote traditionally on election day," Stephens said. It's something they always do."

So far, the county has had no problems with the voting machines, Stephens said.

"Knock on wood, we have not had any issues with the electronic equipment," he said. "We've had no problems at any location."

Stephens also reminds voters that "state law requires that the polling place be a political-free zone when you go there. If someone comes in wearing anything that is political in any fashion, we will ask the voter to remove that. Most people will comply."

"But American flags are OK," Stephens said. "That's a patriotic symbol, and an American flag is posted at every voting location by state law."

He also noted that no campaign materials or advertisements are allowed "within 100 feet or inside the polls."

No vote tallies will begin until election day.ns said.