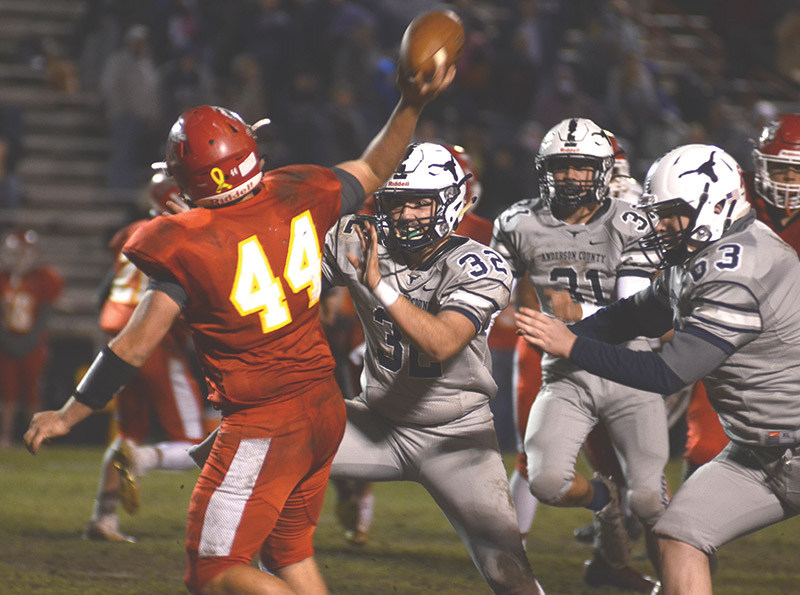 After Clinton finished its regular season and its post-season game against Heritage was called off due to a positive COVID-19 test at Heritage High School, the only game this week is the Round 1 playoffs matchup between the Anderson County Mavericks and the Grainger County Grizzlies.

The Mavericks are favored for the game, ranked sixth in their class and 60th in the state compared to Grizzlies, ranked 22 in their class and 171st in the state.

Anderson County is 8-2 for the season after losses to Powell High School and South Doyle, while the Grizzlies are 6-4 with losses to Pigeon Forge, Sullivan South, Elizabethton, and Greeneville.

Both teams are coming into the game after strong wins, with Grainger beating Union County 50-0 last week and Anderson County beating Sequoyah 54-0.

Anderson County has scored a whopping 420 points against opponents this season, averaging 42 a game, and has given up only 86 points.

The Mavs have rushed for 1,599 yards, averaging 160 a game, and passed for more than 2,300 yards, averaging 235 per game.

In total, the Mavs have 3,951 offensive yards this season to their opponents' 1,437 yards.

The Mavs met Grainger last year during the playoffs as well, beating the Grizzlies decisively with a 41-14 victory.

David Gillum, the head coach for the Mavs, said that they're not taking the game lightly.



"They're a little bit unique," said Gillum. "They run a single wing type offense, which is something you don't see much. It's a different animal getting ready for it. It's one of those things where they're going to try to take as much time as they can off the clock and keep our offense off the field. We've got to make sure we line up well and win the line of scrimmage and tackle well and get them to play a game they're not used to playing.



Defensively, they run a different look every play to try and confuse you. We'll have to make sure we're consistent and make sure we're not missing assignments and things like that. Those will be the challenges."



More than anything, said Gillum, they're trying to make sure they're consistent.



"We'll limit the amount of schemes we run in the game and keep it fairly simple. There's only so much time between now and Friday so we don't want to overcomplicate it for our kids. We want to make sure we have good safe simple checks for our kids and make sure we got it down by Friday. The more somebody else does, the less you can do. You just got to be good at what you do."



Apart from that, Gillum said he just hopes they get a big turnout.



"We just hope we have a good crowd. We're in the playoffs again and hoping to make a deep run this year, so come out and be a part of it.