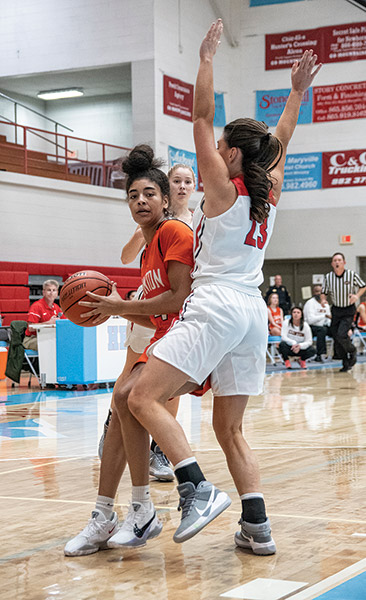 Despite seeing her team pick up its first win of the 2020-21 season, Clinton High School girls basketball coach Alicia Phillips was anything but happy.

The COVID-19 pandemic has already thrown a curve at the Lady Dragons and their schedule. Clinton's first game of the Farragut Thanksgiving Tournament was against Farragut High School's junior varsity team. So the Lady Dragons should've had a relatively easy time. But they didn't.

"We had a lack of effort," Phillips said after the Lady Dragons edged the Lady Admirals 40-37 Monday night at Farragut High's Lynn E. Sexton Gymnasium. "We're down some players, but that's just no excuse."

The Lady Dragons (1-1) were without the services of Naiyah Sanders and Lydia Snyder. Neither player made the trip to West Knox County for Monday's contest.

The Lady Dragons still managed to open an early 6-0 lead after Sarah Burton converted a shot with 4 minutes, 50 seconds remaining in the first quarter. Clinton would lead 13-8 by the end of the frame. The Lady Dragons would hold a slim 21-15 advantage at halftime.

But playing against a talented but much younger team, the Lady Dragons never managed to pull away.

The Lady Admirals never held the advantage, but managed to knot the contest 31-31 with 7:41 remaining in the fourth quarter when Kaitlyn Atwell scored.

Farragut would tie the game again at 37-37 when Allie Heins knocked down the second of her back-to-back three-point shots with 1:21 left in regulation.

The contest's outcome wasn't decided until Clinton center Jaz Moore scored the final three points. Her offensive rebound and subsequent layup gave Clinton a 39-37 lead inside the final minute. She added a free throw in the waning seconds to provide the three-point winning margin.

With the narrow victory, the Lady Dragons advance to the championship semifinals on Friday where they'll face Farragut's varsity team. The resident Lady Admirals notched an 83-26 victory over South Doyle in their season opener later Monday night.

Like her coach, Burton, who scored a game-high 26 points, wasn't pleased.

"We need to work on our defense, our on-ball defense and our rebounding," said Barton, who now has 1,000 career points. "I know we were without Naiyah and Lydia, but you've got to play with what you've got."

Moore finished with nine points for Clinton.

Heins scored 14 points for Farragut's JV team. She had all her points in the final 16 minutes.