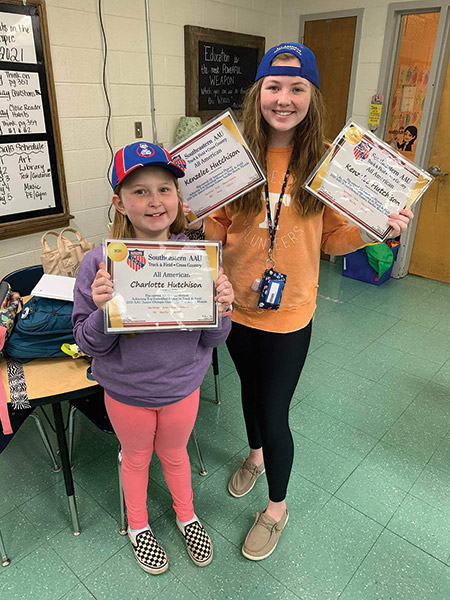 It was a big week for the Clinton Blaze and Lady Blaze basketball teams.

The week opened on Monday, Jan. 18, as the two teams salvaged a split at Powell's First Baptist Academy in Knox County.

The Lady Blaze captured a 36-10 victory while the Blaze came up on the short end of a 40-36 decision and suffered their first loss of the season.

Clinton's girls got 14 points and seven steals from Topanga Easterday while Abby Phillips scored 12 points and grabbed nine rebounds.

In the boys game, Drayton Wade scored 12 points while Isaiah Williams finished with eight.

On Wednesday, Jan. 20, the Blaze and Lady Blaze both earned wins.

The Lady Blaze, who won 32-12, had Phillips score 16 points and grabbed five boards. Easterday scored eight points and had six steals.

The Blaze posted a 39-13 win as Kaden Webber scored 10 points and had six steals. Wade had seven points and six rebounds.

On Thursday, the Lady Blaze won their third consecutive game as they nabbed a 31-16 victory over 4U Impact.

Phillips had 17 points and scored her 100th point of the season and Easterday finished with 10 points.

Clinton's boys improved to 7-1 on the season as they routed Farragut's Concord Christian School 44-24. Webber had 16 points and six steals while Jaxon Alcorn scored nine points, pulled down six rebounds and had three blocked shots.

Upcoming Schedule: The Blaze will have sixth grade night on Thursday. Parents and grandparents will be invited to attend the game and masks are required to enter the gym.

Jason Glashauser and Clinton City Schools music students will perform the National Anthem.

Blaze basketball attendance protocols: Clinton City Schools E.T. Stamey announced the attendance regulations that will continue for the home games this season.

Tickets will be limited to two per player. Temperature checks will be performed upon entry. Face masks are required. Everyone must wear face coverings unless they are in an on-court in-game situation.

Social distancing protocols must be followed in seating. Game balls will be cleaned following each quarter. Standing Room Only attendance will be allowed at each game. Concessions will not be available.

Both teams must provide rosters to prove who will be in uniform on each night. No locker room use and entrance will be allowed at the front door only.

Lady Blaze Basketball Record Falls: Topanga Easterday broke a single game record for steals on Jan. 7 as she had nine.

Blaze Dance Team: The Blaze dance team has been announced. Members include: Grace Wilson; Maggie Turbiville; MacKenzie Sharp; Sean Fuhr; Marie Bautista; Nevaeh Fuller; Amilia Grainger; Kaylin Phillips; Lilly Marvin; Ariana Duncan; Bella Hobbs-Swenson; Lisa Dawson; Abigail Bennett; Layla Feinstein; Charlie Riggs; Miranda Childs; Reece Hollifield; Jailah Fritts; Anime Fox; Addi Herrell; Angel Wagner; Maleah Breeden; Peyton Skaggs; Addyson Kidwell and Maisen Sharp.

Blaze Coat Drive: The Blaze coat drive is ongoing. To donate, message Stamey on the Clinton City Blaze Facebook Page.

Blaze track standout medals in Alabama: Adeline Queener posted a second-place finished and finished fifth twice in the 600-meter run at the Coach O Classic in Alabama.

Archery: Stamey said that he plans on beginning an archery class for the 2020-2021 academic year. It will be part of the academic curriculum.

The Blaze will field an archery team soon.

Track season: The Blaze and Lady Blaze track and field athletes look to begin their season in March.

The Blaze Bowling League will continue to take place in the spring at the Clinton Community Center.

Blaze and Lady Blaze continue to get community support; Stamey said that fundraising for the athletic program continues to flourish despite financial hardship caused by the Coronavirus pandemic.