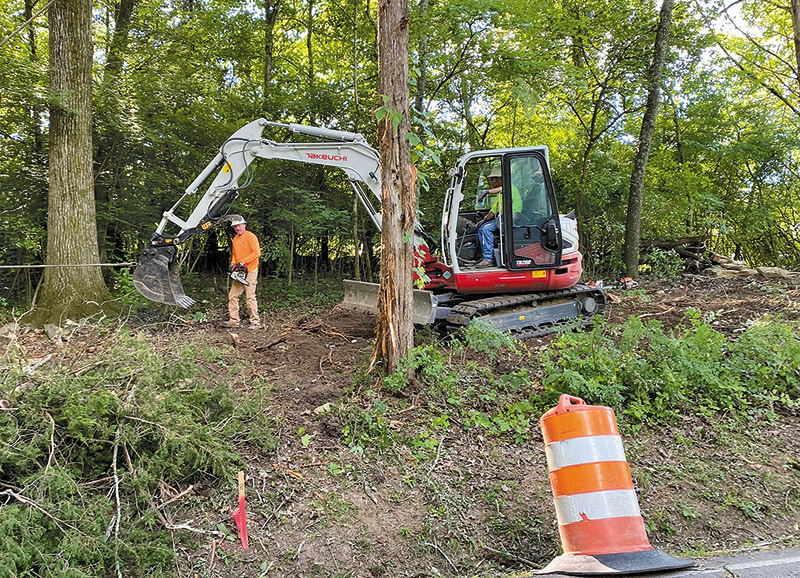 Norris Mayor Chris Mitchell during Monday night's City Council meeting signed the final checks to pay for the city's costs of construction of the East Norris Sidewalk project, which now also includes a new city park.

The project, with a total construction cost of $317,195, added 2,500 feet to the sidewalk on East Norris Road to extend it from Dairy Pond Road to the Anderson Crossing shopping complex across Andersonville Highway. The city's portion was $94,327, with the state paying the rest.

Called the East Norris Sidewalk and Pedestrian Signal Improvements project, 80 percent of the design and construction costs were covered by a grant from the Tennessee Department of Transportation, while the city paid a 20 percent share, City Manager Scott Hackler said.

In planning for the past five years, the project also includes the new park, designated Norris Creamery Park, on a 2.5-acre plot near the end of the sidewalk approaching Andersonville Highway.

The land was donated to the city in two parcels, one from Jerry and Ellalyn Crossno, and the other from Norris Mayor Chris Mitchell and his wife, Pam Turner.

Jerry Crossno is the son of former Norris Creamery owner and operator R.G. Crossno. Mitchell and Turner purchased their portion of the land from one of the R.G. Crossno heirs expressly for the purpose of donating it to the city for the park.

Hackler said the sidewalk construction had an original estimate of $347,000 five years ago, but the bid price came in at $329,460, and the final cost was just $317,195, he added.

Construction engineering cost an additional $57,908. There were also some earlier costs the city paid for preliminary design, an environmental study, and right-of-way acquisition.

The well-manicured concrete sidewalk meanders through the new park like switchbacks on a mountain highway.

Hackler said the city will "add trees and benches and some kind of sign to commemorate" the now-gone creamery.

This was the last major link in the Norris sidewalk network, allowing people to stroll on dedicated pedestrian walkways through the entire city all the way from Norris Freeway to Andersonville Highway.

At Andersonville Highway, it loops into the parking area of the shopping center, and there are new pedestrian walk signals at the traffic light where East Norris Road ends at Andersonville Highway.

Adams Construction from Kentucky built the sidewalk.

Also during Monday night's meeting, council members were told that requests for bids for repaving all of Dairy Pond Road would be going out in the next few days.

Hackler said the plan is to have the repaving completed by the end of June, when the city's current fiscal year ends.

Dairy Pond is a major cut-through road in Norris, connecting traffic coming off Andersonville Highway with Reservoir Road, which then runs east toward Andersonville.