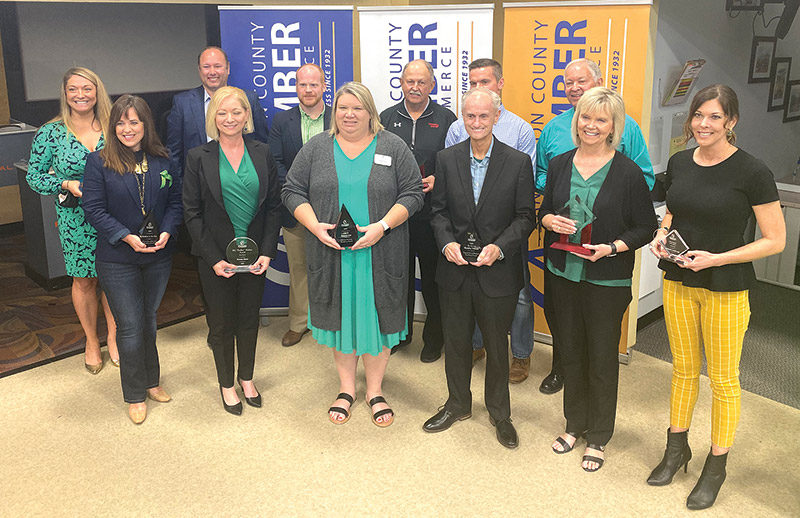 Despite the challenges of the coronavirus pandemic during 2020, the Anderson County Chamber of Commerce was able to thrive while other chambers across the state and nation were going under.

That was the message from outgoing Chamber Chair Heather Emert as she prepared to turn the gavel over to the new chair, Tammy Gross, during last week's annual Chamber Business and Awards Luncheon at the Junior Achievement building in Clinton.

In fact, not only did the chamber hold onto its membership during 2020, but it actually added some – despite not having the formal membership drive that had been planned, said Emert, who is vice president and Mortgage Department manager at TN Bank.

"We had identified plans including relocating our chamber offices and growing membership, and all of that came to a halt and we went into survival mode," Emert said, referring to the time in March 2020 when the state ordered non-essential businesses to closem and the economy was shut down in response to the pandemic.

But "we ended the year in the black," she said. "I'm so proud of that. So many chambers did not survive."

She also praised the efforts of the chamber to boost business in the area even as the pandemic caused many businesses to suffer.

"You can see the rooftops and businesses that were a direct result of the chamber's retail efforts," Emert said. She added that even during the pandemic, the chamber continued its "support of the Clinton vision" as promoted by the organization.

"We sustained our membership and grew … without a membership drive," she said. "We also created a farmers' market.

"Now, as I pass the gavel to Tammy, I assure you the chamber will be in good hands."

Gross, the new chair, is HR manager at Pascal Solutions Inc.

"My goal is to guide the chamber through a year of renewal," Gross told the crowd at the luncheon. "I'm hopeful we can return to events with full participation.

"I want to increase chamber membership," she said. "Growth is happening … new businesses are moving in. Planning is underway for a membership drive."

The chamber also will be "exploring a capital strategy" for a new chamber headquarters building, she said.

"We will treasure any and all support as we navigate through 2021," Gross said.