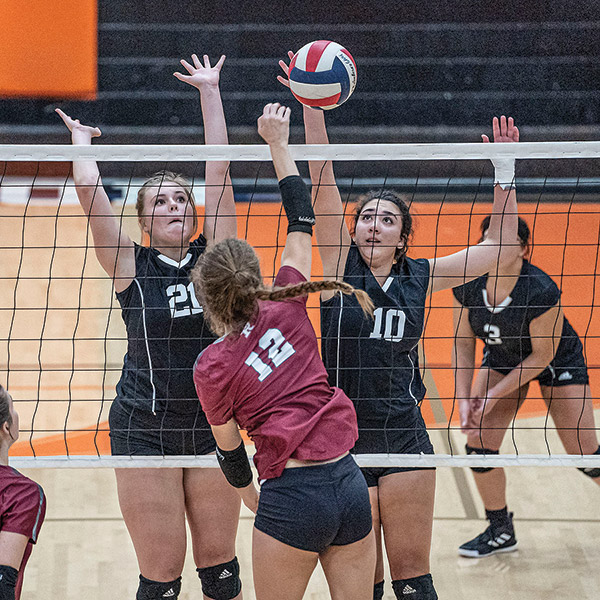 Rabid fan support and some tenacious defense lifted the Clinton High School volleyball team to a key District 3-AAA victory Thursday night.

"Our fans were going crazy," Lady Dragons first-year head Coach Lorri Johnson said after her squad notched a 25-21, 25-19, 9-25, 29-27 victory over Campbell County at the Don Lockard Gymnasium.

Clinton's young team has gotten support from its fan base all season, according to Johnson, who previously coached high school volleyball at Soddy-Daisy and Knoxville Central.

But on this night, the pesky Lady Dragons (6-4 overall, 3-3 in District 3-AAA) really gave their fans reason to cheer as they won the first two sets against the Lady Cougars before experiencing a hiccup in Game 3.

"In the first two sets, we were hitting well and we were serving well and we were passing well," Johnson said. "But in that third set, we self-destructed, but we came back and we were shutting them down at the net."

The Lady Dragons also posted a stellar game in the back row. McKenzie Crisp, Clinton's freshman libero, had 30 digs.

"She was all over the place," Johnson said of Crisp.

Kierra Washington had 19 digs, while Zavie Ford, Darbi Brummett and Jordyn Majors recorded eight digs each. Brummett also had three blocks.

Johnson lauded the effort from all of the Lady Dragons, but had high praise for Majors, a senior outside hitter.

"Jordyn just played the game of her life," Johnson said. "She had six kills, one ace and eight digs.

"She was just outstanding."

Washington and Ellie Murrell each added six kills.

Murrell was also Clinton's leading blocker as she came up with six stuffs. Brummett came up with five blocks.

Lady Dragons setter Tomi Taylor finished the match with 25 assists, five blocks, three kills and two aces against Campbell County.

Meanwhile at Anderson County: the Lady Mavericks dropped a pair of matches last week as they lost to Farragut and Oak Ridge in non-district contests.

Anderson County lost to the Lady Admirals 23-25, 25-16, 25-20, 25-15 on Tuesday, Aug. 31.

They fell to the Lady Wildcats 25-18, 25-23, 25-18 on Sept. 1.