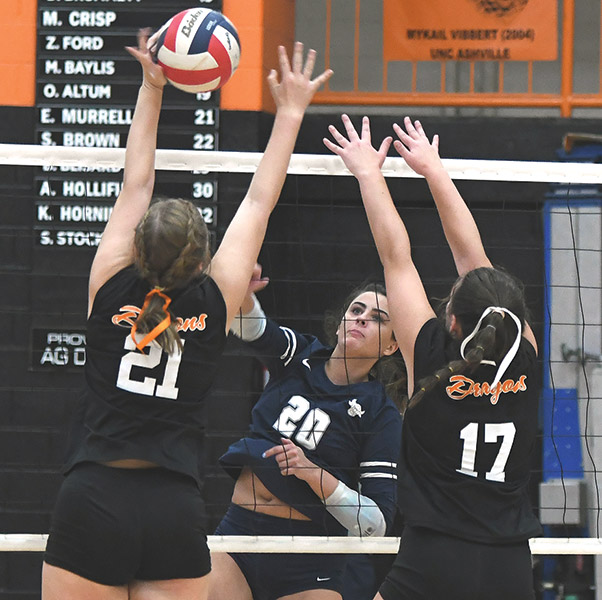 The youthful Clinton High School volleyball team endured a tough weekend in a tournament at the Sevierville Convention Center over the weekend.

The Lady Dragons (8-8 overall, 5-3 in District 3-AAA) lost four matches Friday and Saturday against some tough competition

Clinton was swept by Musselman High School (Linn, West Virginia; Livingston Academy, a top Division II school in Middle Tennessee; and Summertown, a 2021 Tennessee state champion).

The Lady Dragons also lost in three sets to Stone Memorial out of Crossville. All tournament matches were contested in a best-of-three format.

"It was a weekend for us to grow up," Clinton Coach Lorri Johnson said. "We opened with Musselman from West Virginia. They were the top seed and the top team from West Virginia.

"They won the Gold Division of the tournament and they are a defending state champion and they got all of their players back from last year except one."

Johnson is hoping that her young team will learn from its experience in Sevierville, but she's also hoping that the Lady Dragons will continue to play with the energy and enthusiasm that has them in the thick of the District 3-AAA race.

"I'm hoping that they don't get discouraged because this was some really tough competition," Johnson said. "After the Musselman match, I told the players that this is where we want to get to.

"In the past, they weren't competitive at all, and now, they're competing."

The weekend was a rough one, but the Lady Dragons won a pair of league matches earlier in the week.

Clinton outlasted Karns in four sets at home Thursday night. The Dragons claimed 25-12, 25-13, 24-26, and 25-19 victories over the Lady Beavers at Don Lockard Gymnasium to complete a regular-season sweep of the Lady Beavers. The two rivals opened the 2021 campaign at Karns. The Lady Dragons won that match in four sets in northwest Knox County.

Thursday night, Darbi Brummett had 10 kills, six blocks and eight digs. Tomi Taylor finished the match with 30 assists, seven digs, five blocks, three kills and an ace.

Kierra Washington added five kills, 23 digs and two aces, while Jordyn Majors had seven kills, seven digs, two aces and one block.

Clinton opened the week on Tuesday, Sept. 7, with a 3-0 sweep of the host Lady Devils at Halls.

Meanwhile at Anderson County: ACHS notched 25-9, 25-17, 25-11 victories over the Lady Dragons in Clinton and Coach Jayme Smith said that her team, which has struggled and been plagued by injuries early this season, may be poised to turn the corner.

"We just got one of our starters back last night, and I think that might make a difference," she said. "We just got Erin Cantrell back from concussion protocol. We still have one starter out."

Anderson County has enjoyed a bit of success of late, and Smith said that it's been a team effort for the Lady Mavericks this season.

"Last night (against Clinton), everybody did what they were supposed to do," Smith said. "That's the good thing about our team.

"Sometimes, we have girls who have off nights, and other girls step up and pick of the slack. We've gotten good play from Jace Braden and Leah Freeman and we got Erin back. Those girls are all seniors.

"We want to be there in October and we've worked hard to get there in the past."

Smith also had high praise for Johnson and the Lady Dragons after Monday night's match.

"She's done a good job over there and they've come a long way," Smith said.

"She has a really young team and I think they'll be really good in the next couple of years."

The Lady Mavericks (8-10 overall, 2-0 in district play) defeated Fulton 25-7, 25-20, 25-5 on Thursday at home.

Anderson County also has a District 3-AA victory over Gibbs as it claimed a 25-15, 25-19, 25-9 win over the Lady Eagles in Corryton.