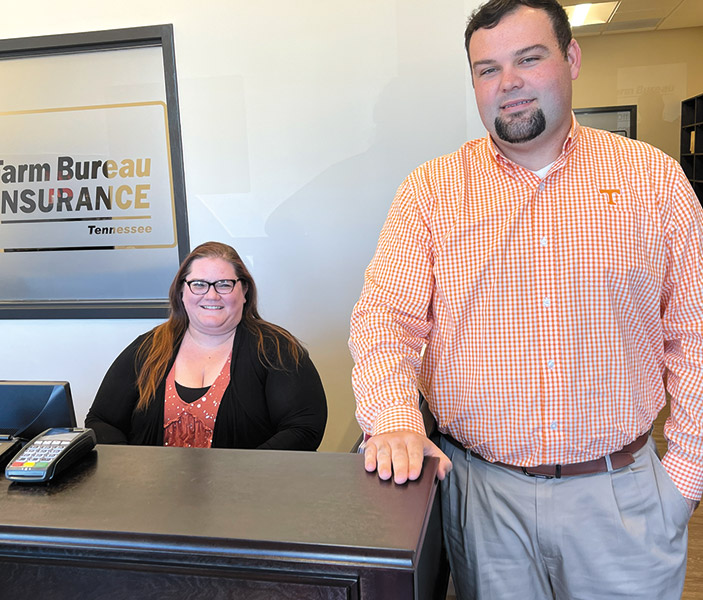 Jarrett Galloway has opened the new Tennessee Farm Bureau Insurance Norris office next to Buddy's bar-b-q near Interstate 75, Exit 122.

Designed to serve Farm Bureau members in the fast-growing Norris, Andersonville and east Clinton areas, the new office opened Sept. 1.

It is staffed by Galloway, who is the resident agent, and Emilee Bradshaw, who is the customer-service representative.

Galloway said he expects to need to add a second agent and perhaps another customer-service representative within a year or so,

The new Farm Bureau agency sells auto, home and life insurance, as well as Farm Bureau Health Plans policies, Galloway said.

"Our idea was to provide a more-convenient location for our members on this end of the county, including Norris, Andersonville, Heiskell and Rocky Top," he said. "We're here to capture the growth on this end of town."

Before taking over the new agency, Galloway worked in the Farm Bureau's Clinton office in South Clinton for nearly five years.

A Clinton native, Galloway is the son of Brian Galloway, who is chief deputy of the Anderson County Sheriff's Office.

He graduated from Grace Christian Academy in Knoxville, and holds a bachelor's degree in business administration from King's University in Bristol.

Galloway's wife, Keri, is a pharmacist at Tennova's LaFollette Medical Center. The couple has a 19-months-old son, Mack.

The new office's address is 2204 N. Charles G. Seivers Blvd., sandwiched between Buddy's and the Tennova Primary Care clinic.

There are multiple new residential subdivisions with hundreds of new homes being built within a short distance of the new location.