Effective Sept. 28; councilwoman says she is moving away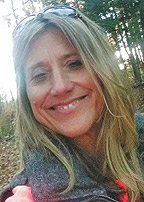 Jill Holland Ryan, who joined the Norris City Council in December 2020 after winning her seat in the November election, resigned that position on Tuesday, Sept. 28.

Ryan, who came in second in the council race out of six candidates vying for the five open seats, told The Courier News on Thursday that she was resigning because she will be moving to Boston, and will be selling her home in Norris.

"My husband has a new job in Boston, so we will be moving there," she said. "We have put our house in Norris up for sale, and are buying a cottage at Cove Norris to keep a presence here, because my children are still here."

She informed City Manager Scott Hackler of her resignation in an email sent at 1:11 p.m. on Tuesday, Sept. 28, that also mentioned her moving plans..

"Since my husband and I are moving to Boston and keeping a cabin here at Cove Norris and selling our residence in the city of Norris, I regrettably must resign from city council effective 9/28/2021."

Hackler said the council still must formally accept her resignation at its next meeting, scheduled for 7 p.m. Monday, Oct. 11.

Under the city charter, the remaining councilmembers will choose a replacement to sit on the council until after the next city election in November 2022.

A "For Sale" sign went up in the front yard of her home on West Norris Road the day she sent in her resignation email. She and her husband bought the property in August 2019, and she told The Courier News in August 2020 that she had moved back to Norris specifically to run for city council.

Ryan is an English teacher at South Doyle High School in Knoxville, and was a longtime teacher at Norris Middle School before moving to the Knox County school system. She is a Norris native. At South Doyle, she teaches under the name Mary Ryan.

She said she intends to complete the 2021-22 school year in her teaching position at South Doyle, but will be "retiring at the end of the school year."

Ryan said she and her husband, Kevin Ryan, a physician assistant, will be closing on the purchase of the Cove Norris property "in a couple of weeks" and will move there, where she intends to live until the end of the school year.

Cove Norris is a private community on Norris Lake in Campbell County, accessed by road from the Rocky Top area.

Ryan's election to and service on the Norris council has not been without controversy.

Because she came in second place in the overall voting for the council seats, she made it known even before she was installed on the council during the Dec. 14, 2020, meeting that she expected to be named vice mayor by the council.

She cited a tradition in Norris by which the top vote-getter is often chosen by the council to serve as mayor and the second-place finisher as vice mayor.

But on a split vote Dec. 14, the council decided to keep then-current Mayor Chris Mitchell in the mayor's position even though new Councilman William "Will" Grinder was the first-place finisher. Councilman Bill Grieve was installed as vice mayor instead of Ryan.

Ryan's time on the council following that vote was occasionally stormy. She sometimes broke from majority positions on issues, including the city manager's decision in August to cut down the historic elm tree in the downtown commons area over safety concerns. Ryan wanted to save the tree, and pressed for the council to intervene.

She even sparred with Councilwoman Loretta Painter on items as minor as points of grammar in the written minutes of council meetings.

Because she dated her resignation as effective Sept. 28, Ryan is not expected to take her seat on the council in the October meeting.