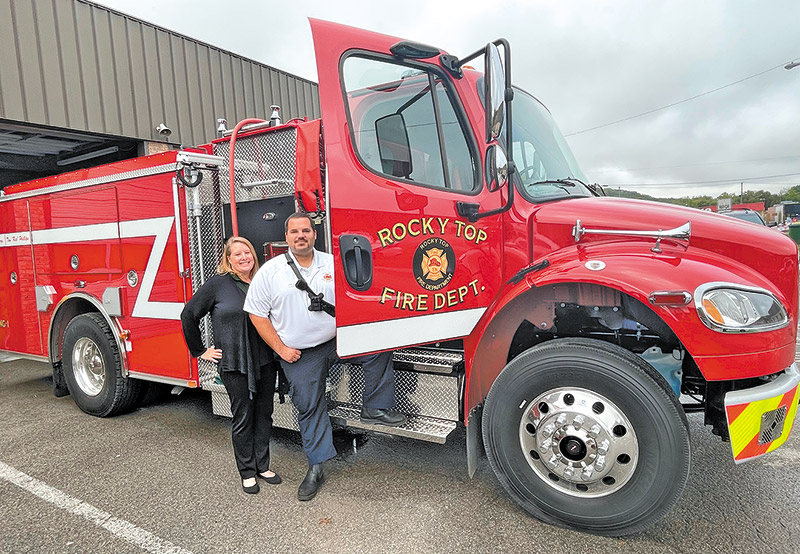 Rocky Top's new fire pumper truck has now arrived, taking the place of a 27-year-old truck that had been answering calls as the city's primary responder.

Assistant Fire Chief Cody Culver said Friday that the new truck was built on a Freightliner chassis, with a body by fire truck maker Pierce. It has a 750-gallon water tank.

The city plans either to sell the 1994 pumper or give it to another fire department that needs it, said City Recorder Kari Bates.

At mid-morning Friday, the new truck already had been given a workout, answering three calls already since the morning began, Culver said.

Rocky Top received a state Community Development Block Grant of $289,918 for the new fire truck, and had to chip in its own local match of $35,833, City Manager Michael Foster said earlier.

The truck had been on order since late last year, and originally was supposed to be delivered

last spring. But manufacturing of fire trucks was affected by the COVID pandemic just like so many other things, and the delivery date kept being pushed back.

It spent several months awaiting final assembly in Florida, and Foster had said in June that he expected it to be delivered by the end of that month.

Because the delivery got pushed into a new fiscal year, the city was unable to apply for another block grant for this year.

Under grant rules, the previous year's grant had to be spent before that fiscal year ended June 30 in able for the city to ask for another grant for this year.

There are inscriptions on each side of the rear of the new fire truck honoring the memory of two city fire department personnel who died of COVID-19: Fire Chief Ronnie Spitzer and Fire/Police Dispatcher Tim "Red" Phillips.

Police Chief Jim Shetterly has held the interim position of fire chief since shortly after Spitzer's death in January.

A "Three Stars of Tennessee" award was given posthumously in Spitzer's name in September by the Tennessee Department of Safety and Homeland Security for "sacrificing his life" in the line of duty.

Spitzer died Jan. 13 from complications of COVID-19, which the award says he contracted after responding to a medical emergency involving a COVID patient on Dec. 11, 2020. Spitzer and a fellow Rocky Top firefighter got the virus from their contact with the patient, and that cost Spitzer his life, the award stated.