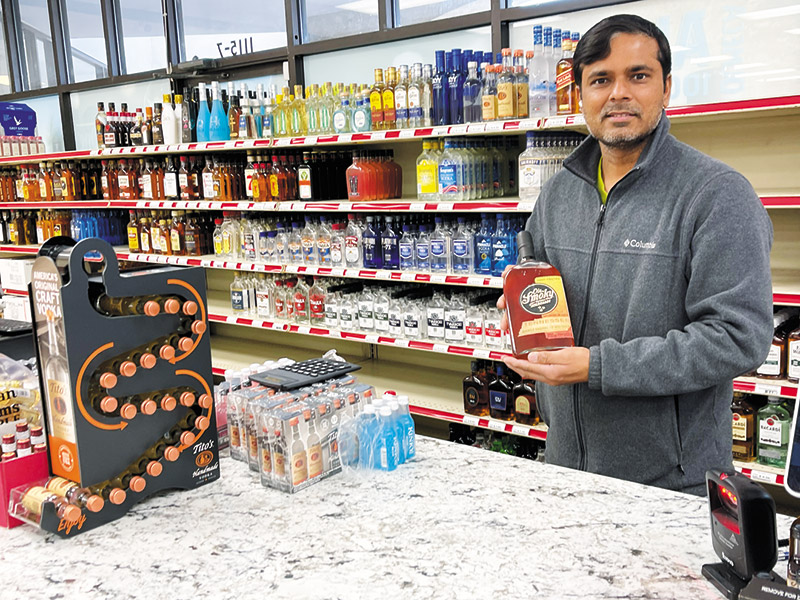 Clinton's first alcohol package store has opened.

MS Wine & Liquor at 1115 N. Charles G. Seivers Blvd., next door to China Inn and the Rent-A-Center, opened Feb. 2. It's in the Centre Plaza shopping center.

One of the three owners, Pritesh Patel, said Monday that the store will be open seven days a week, offering a large selection of wine and liquor. Hours are 9:30 a.m. to 8:30 p.m. Monday through Thursday, with the closing time extended to 9 p.m. on Fridays and Saturdays. Sunday hours are noon to 7 p.m.

"We are glad to finally have our store open," Patel said.

His store is one of two retail package stores already approved by the state ABC Board for Clinton, but the first to open.

The other, SP's Wine & Liquor at 2170 N. Charles G. Seivers Blvd., is now being stocked but has not yet opened for business.

These are the first package stores authorized for the city since Clinton voters approved them for the first time in a referendum that was on the ballot in the November 2020 general election.

SP's Wine & Liquor was expected to be the first to open, but one of the owners told The Courier News last week that their store would open in about two weeks. It was not open yet on Monday, but there were numerous empty boxes on the floor inside where shelves had been stocked with product.

Both stores are owned by natives of India whose surname is Patel, but they said they are not related.

SP's is in the same building at the new Starbucks coffee shop under construction near Buddy's bar-b-q.

Suresh Patel and his son, Alish Patel, are the owners.

SP's Wine & Liquor was provisionally issued a license to sell wine and spirits by the state Alcoholic Beverage Commission Board on Nov. 18, pending the issuance of a certificate of occupancy for the building by the city of Clinton, and an inspection by ABC agents.

Meanwhile, MS Wine & Liquor's owners beat their competitor in getting their doors open first. The other owners are Mitulkumar Patel and Rinkeshkumar Patel.

MS Wine & Liquor was also granted a provisional license by the ABC Board in November, contingent on the owners submitting a "corrected lease" and paying the license fee, according to ABC Board minutes.

Mitulkumar Patel said he already owns a package store in Morristown, where he lives, and has two gas stations in Jefferson City. His partners in MS Wine & Liquor are his cousins, and each person owns one-third interest in the business, according to the state license, as granted.

The shopping center's owner, Coastal Equities, obtained a building permit from the city of Clinton in August for a $7,000 interior renovation for the package store.

The other store, SP's, will have a total of five employees, and will be open seven days a week. Hours will be 9 a.m. to 9 p.m. Monday-Thursday, 9 a.m. to 10 p.m. Friday-Saturday, and 11 a.m. to 7 p.m. Sunday.