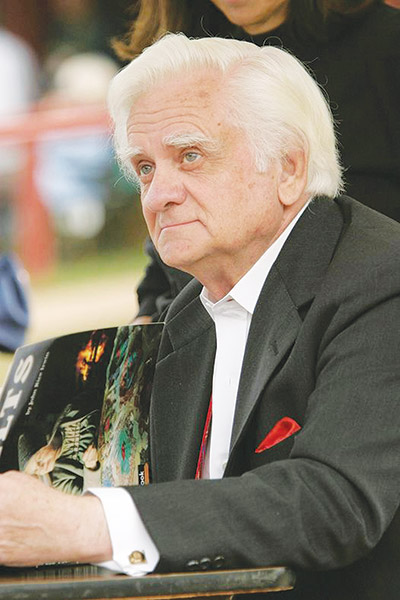 John Rice Irwin, the longtime Anderson County educator and cultural historian who founded the Museum of Appalachia, will be honored in a celebration of life service to begin at 2 p.m. Sunday (April 24) at the museum .

Irwin, a former Anderson County superintendent of schools, died Jan. 16 at age 92. He still lived on the family's property adjacent to the museum in the Bethel community on Andersonville Highway at the time of his passing.

The Sunday event will begin with a short reception, followed by a memorial service at 2:30 p.m., according to the museum.

He founded the Museum of Appalachia on the family property in 1969, and it since has become known worldwide, and is affiliated with the Smithsonian Institution.

According to his published obituary, Irwin was born Dec. 11, 1930, in Union County, but while he was still a toddler, his family was forced to move from their farm to make way for the flooding of Norris Lake and the construction of Norris Dam. They first settled in Robertsville, but the Manhattan Project forced them to move yet again, this time to the Bethel community.

In 1962, at age 31, Irwin became the youngest school superintendent in Tennessee when he was elected to the post in Anderson County.

"For as long as he could remember, Irwin was captivated by the rich cultural history of East Tennessee and its people," his obituary read. "As a young boy, he would sit at the feet of his grandmother, Ibbie Jane Rice, and grandfather, Marcellus Moss "Sill' Rice, and listen intently to their stories of the past.

"Sill took notice of his grandson's fascination and said to him, 'You ought to keep the old-timey things that belonged to our people and start you a little museum sometime.' It was this advice that would ultimately inspire Irwin to create the Museum of Appalachia.

"All the while, Irwin spent his free time traveling throughout the hills and hollers of Southern Appalachia collecting 'old-timey things,' and more importantly, the stories behind them," the obituary said.

"Irwin bought a historic cabin and placed it on his family property in Norris. With extreme attention to detail, he tried to recreate what the cabin would have looked like when it was first built in 1898.

"Before long, the Irwin family welcomed friends and visitors to view their unique collection. It became so popular that it interrupted the Irwin family's daily life, so they began charging a nominal fee. The museum officially opened in 1969 and would welcome some 600 visitors that year. Today, the museum regularly greets tens of thousands of guests per year."

Some of Irwin's longtime friends will honor his memory with their personal stories of him during the service. They will include John Alvis, Sam Venable and former Tennessee governor and U.S. senator Lamar Alexander.

"Guest musicians will perform some of Irwin's favorite tunes, and family members will share fond memories," the museum announcement said.

"Irwin made it his life's mission to share Appalachian history and culture with as many people as possible, so the family invites the public to attend his celebration of life," it continued. "Guests are welcome to tour the museum grounds after the service."

Also, the museum says that anyone who would like to share a story or memory of Irwin may do so online at forevermissed.com/john-rice-irwin/.

Donations may also be made to the museum in memory of John Rice Irwin by sending them to the Museum of Appalachia, P.O. Box 1189, Norris, TN 37828.