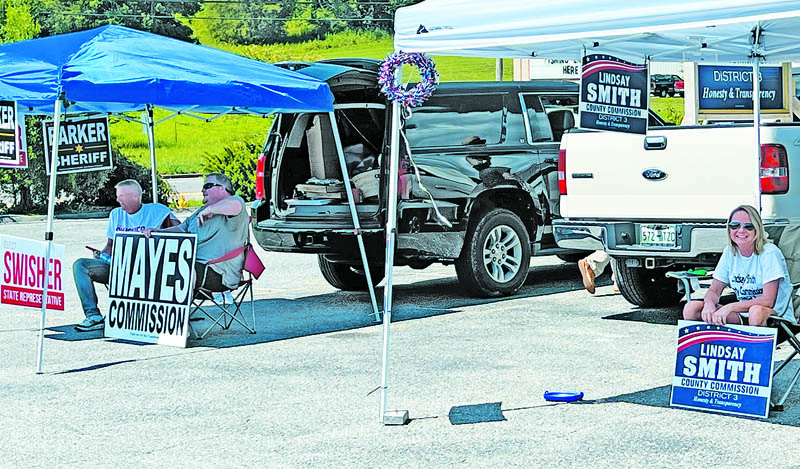 This Saturday (July 30) marks the end of the early voting period for the Aug. 4 Anderson County general election and the Tennessee statewide primary election.

Early voting began July 15, and through Monday, July 25, a total of 3,148 people had voted, according to the Anderson County Election Commission.

That included 2,211 who voted in the Republican primary, and 818 who voted in the Democrat primary.

For the Anderson County general election, positions being filled are for county offices, including mayor, sheriff, trustee, register of deeds, Circuit Court clerk, county clerk, road superintendent, constables, Circuit and Criminal Court judge, General Sessions judges, Juvenile Court judge, county school board, County Commission seats, public defender, and district attorney general (7th).

Oliver Springs is electing a city judge and a court clerk/finance officer.

For the state primary election, Republican and Democrat candidates are being chosen for the Nov. 8 general election for governor, U.S. House of Representatives, Tennessee Senate, and Tennessee House of Representatives.

There also is a long list of statewide judges who are on the ballot for voters to choose to "retain" or "replace," including the state Supreme Court and Court of Appeals.

Early voting hours are 10 a.m. to 6 p.m. Monday through Friday, and 9 a.m. till noon on Saturday.

Locations for early voting are: Clinton Community Center, 101 S. Hicks St., Clinton; Midtown Community Center, 102 Robertsville Road, Oak Ridge; and Anderson Crossing Shopping Center (Norris/Andersonville), 3310 Andersonville Highway, Andersonville.

Anderson County Election Administrator Mark Stephens reminds voters that "state law requires that the polling place be a political-free zone when you go there. If someone comes in wearing anything that is political in any fashion, we will ask the voter to remove that. Most people will comply."

"But American flags are OK," Stephens said. "That's a patriotic symbol, and an American flag is posted at every voting location by state law."

He also noted that no campaign materials or advertisements are allowed "within 100 feet of the entrance or inside the polling location."

At the Andersonville Crossing polling place, several candidates have campaign tents set up in the parking lot just outside the 100-foot point.

No vote tallies will begin until election day, Stephens said.