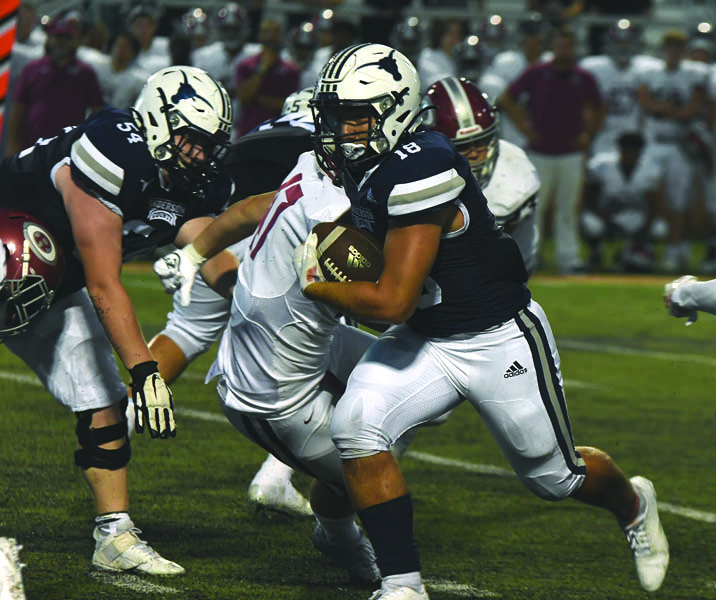 Anderson County High School's football team opens its 2022 season Friday night. The Mavericks will face a tough test.

For its first game of the season, Anderson County will host defending Class 5A State Champion Powell at ACHS with kickoff slated for 7 p.m.

The Panthers, who went 13-2 last season and outlasted the Mavericks 60-48 to open the campaign, have the majority of their players back and appear poised to make a run at a second consecutive state title.

Quarterback Jordyn Potts, a Tennessee MAVS



Tech commitment and Most Valuable Player of last year's Blue Cross Bowl Class 5A State Championship Game after leading Powell to a 42-34 victory over Page.

"They have a good team and offensively, they're dangerous. They have a dangerous quarterback," Mavericks' coach Davey Gillum said. "He does a really good job scrambling and extending plays. We can't let him extend plays."

Both teams posted perfect region records in 2021 as the Panthers swept through Region 3-5A and ACHS went 5-0 in Region 2-4A. Last season's showdown was close before Powell pulled away late.

"Last year, we were in the game and they beat us late because we made some mistakes late," Gillum said. "They have an advantage with their depth and they'll be able to two-platoon. We want be able to do that.

"The depth was a factor in the game last season."

Gillum said he knows that Anderson County will have to play a nearly flawless game to defeat the Panthers.

"We have to play really, really clean," he said. "We'll have to execute and we'll have to be perfect."

The Mavericks have been a bit nicked in the preseason and they struggled with penalties at the recent 5 Star Preps Jamboree at Carson-Newman University in Jefferson City. Anderson County fell behind early but rallied to salvage a 7-7 tie against Oak Ridge last week.

"For us, it's about getting healthy and cleaning things up," Gillum said. "On (Oak Ridge's) scoring drive, we had a personal foul and we had an offsides penalty.

"Overall, I think (the jamboree) was pretty good. We only really had one offensive drive and the older guys got into the end zone. We had some penalties but when we played clean, we played pretty well. We blocked well and we moved the ball well and the defense played pretty well."

Against Oak Ridge, the Mavericks fell behind but they would find the end zone in the first period against the Wildcats, who have battled injuries of their own in the preseason.

Anderson County scored its lone touchdown of the night on a 5-yard run by Braden Miller. The score was set up by some big plays.

On the Mavericks' touchdown drive, quarterback Walker Martinez had a 40-yard completion to Eli Braden and had a 10-yard toss to Miller.