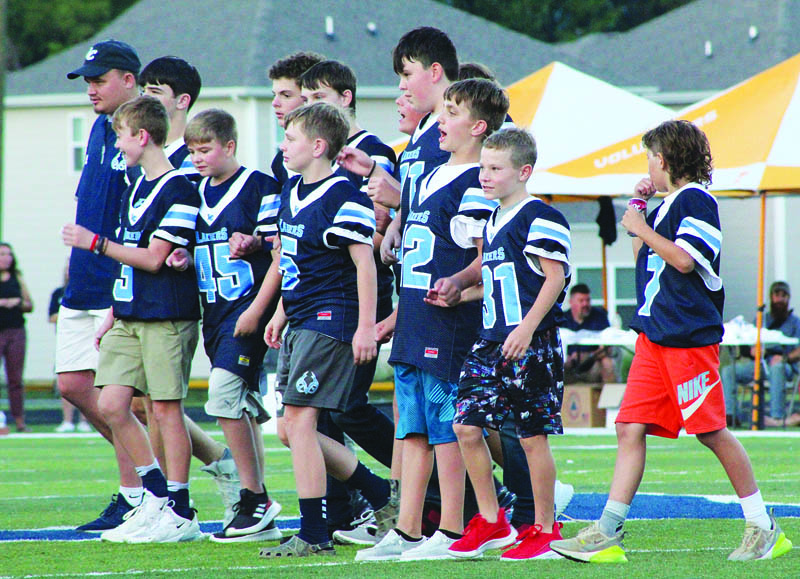 Two of the three area middle school football teams continued their 2022 seasons last week with mixed results.

Another, meanwhile, had its final preseason tune-up Saturday and will open its new campaign this week.

The Norris Senators improved to 2-0 with a 14-0 victory over Jefferson Thursday night. The Senators battled adversity, such as illness and injury, against the Eagles.

Norris was without quarterback John David Gillum, who was injured. Running back Kaden Webber had strep throat during the week but rushed for more than 100 yards and scored two touchdowns. Gavin Waddell also missed the game due to illness.

"John David was injured and Kaden Webber had a fever all week and had strep throat," Norris Coach Richie Noe said. "Kaden had two touchdowns and ran for over 100 yards. When we don't have John David, it changes our offense."

Logan Burnette played against Jefferson last week and Noe couldn't have been happier with the seventh-grader.

"Logan came in and did a great job managing the offense," Noe said.

Noe also had high praise for two-way player Zach Happney.

"Happney caught the ball well on offense and had five tackles for loss on defense," Noe said. "Our line was great. START



Liam Welsh, Kaesen Landon, Landon Engle, Vance Young and Rahkeem South played well."

The Senators will be back in action Thursday night at 7 p.m. when they host Christian Academy of Knoxville at Anderson County High School.

Hawks fall at home to Fort Loudoun: Clinton dropped to 0-2 as it fell to Fort Loudoun 34-0 Thursday night.

The Hawks will hit the road for the first time Thursday night when they travel to Spring City.

"We play Spring City next and we'll see the Wing-T," Clinton coach Justin Hite said.

Lakers host jamboree: Lake City will open its 2022 season Thursday night when it host Jellico at George Templin Memorial Park.

The Lakers had their final tune-up for the season when it hosted a jamboree Saturday.

Lake City played two one-quarter games at the event, splitting the two contests.

The Lakers were slow out of the gate and dropped their first game, 13-7, to Knoxville's Grace Christian Academy.

"We started slow and they scored twice early," Lake City coach Eric Tackett said. "We got off to a slow start, but once we figured things out, we played pretty well."

The Lakers scored late in the game against the Rams when quarterback Maddox Tackett had a 50-yard touchdown pass to Garrett Turner.

Lake City closed its day with a 12-0 victory over Oliver Springs as Tyler Pitsenbarger scored on a 40-yard touchdown scamper and Maddox Tackett threw a 40-yard scoring strike to Turner.

With the jamboree in the rear view mirror, the Lakers turn their attention to Jellico.

"We're done with the jamboree and we're excited to get started," coach Tackett said.