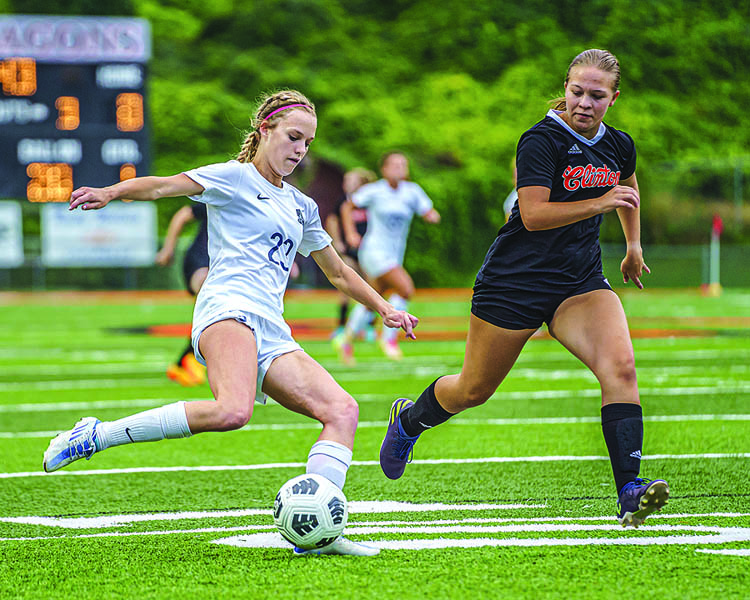 Two area girls soccer teams opened their respective district seasons against each other on the pitch early last week.

Anderson County made the short trip to Clinton and defeated the Lady Dragons 5-0 on Tuesday, Sept. 6.

The Lady Mavericks (3-6 overall, 1-0 in District 5-AA) posted a dominant performance at Clinton (2-3-1, 0-1) as Emma Leander had a hat trick and Hayllyn Willis added a marker and an assist.

Millie Swisher also scored and Ralyn Dixon dished out an assist.

ACHS Coach Chris Curtin said he was pleased with his team's effort against the Lady Dragons.

"Our midfielders did a great job," he said. "We had 117 passes and 71 of those came from the midfield.

"Olivia Madon, Renee Wilson and Bralee Hall all played well.

"When Bralee is in the game, she gives us energy," Curtin said.

Zoey Rose dished out a pair of assists for the Lady Mavericks, and Victoria Laster had a solid performance.

"I was pleased with everybody on the team," Curtin said. "I was definitely pleased with our core group of players."

The Lady Mavericks, who returned home Thursday and came up on the short end of a 3-2 decision against the Lady Wildcats (9-0), were set to play a district match against rival Scott (2-4) Tuesday, but results were unavailable at press time.

The Lady Mavericks host Campbell County Thursday before entertaining Kingston in another district tilt on Tuesday, Sept. 20.

"We have district matches the next two Tuesdays, Curtin said. "Kingston is a big rivalry match for us. Scott is a big rival for us. Kingston is always going to always be strong and they're always going to strong."

On Thursday, the Lady Dragons dropped a 6-0 decision to Rockwood. Clinton travels to Kingston to face the Yellow Jackets Thursday. Kickoff is slated for 6:30 p.m.