Norris beats Robertsville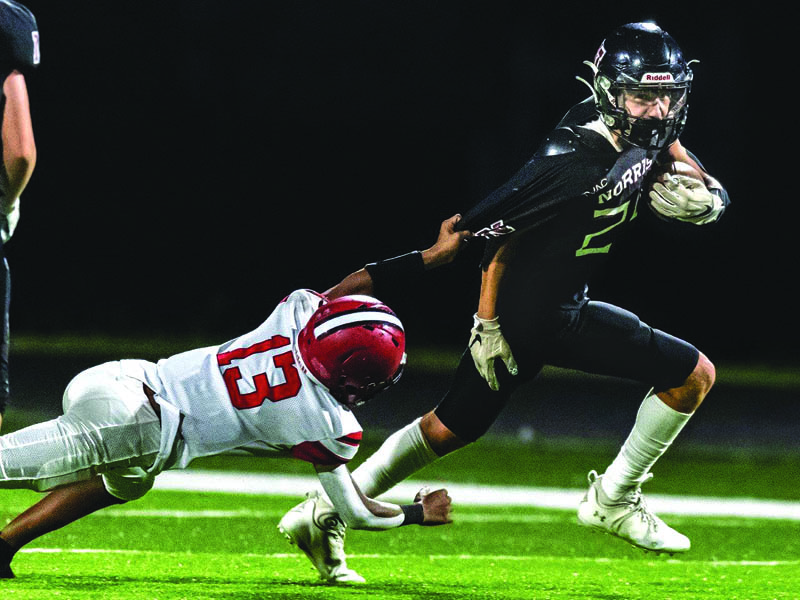 Lake City and Clinton each lost in middle school football last week.

The Lakers fell to Jacksboro Thursday night, 32-16.

The game was knotted at 16 at halftime but Lake City surrendered 16 unanswered points after the break.

"We lost another heartbreaker," LCMS head coach Eric Tackett said. "We played well in the first half and the game was tied, 16-16, at halftime.

"Our lack of depth is a problem. Our kids keep getting better. They keep fighting and they keep playing hard."

Joey Radford had both touchdowns in the game for the Lakers as he scored on a long touchdown run and returned a kickoff to the end zone.

Lake City takes on Cumberland Gap Thursday at 7 p.m.

Meanwhile, the Hawks saw their season-long struggles continue Thursday as they lost 40-8 to Jefferson. Clinton scored its touchdown on a 50-yard swing pass from Easton Gilliam to Austyn Phillips.

Despite the lopsided loss, Clinton coach Justin Hite said he saw reason for optimism.

"We got a chance to see some younger kids and those kids played well," Hite said.

The Hawks will play their season finale at Norris Thursday. Kickoff is slated for 7 p.m.

All three area middle school football teams were in action on the gridiron the first week of the month.

Norris notched a victory in a 38-34 thriller against Robertsville on Tuesday, Sept. 6.

The Senators (4-2) never trailed in the contest, but some turnovers made things interesting down the stretch.

"We blew two 16-point leads and we lost a couple of fumbles," Norris coach Richie Noe said. "We lost a couple of onsides kicks but we were never behind in the game.

The game was full of big plays for the Senators, who scored their first touchdown on Kaden Webber's 65-yard kickoff return. Webber also had a touchdown run.

Quarterback John David Gillum had three touchdown passes to Norris, all to Zach Happney.

Gillum had scoring strikes of 25, 33 and 52 yards in the Senators' victory.

The Senators returned to action Thursday (Sept. 15) when they travel to Spring City.

Lakers fall to LaFollette in heartbreaker: Lake City had 300 yards of total offense in the game but came up on the short end of a 28-18 decision against LaFollette.

"This was a heartbreaker," said Lakers Coach Eric Tackett. "We scored two touchdowns on defense and we forced four turnovers.

"It was just one of those games where you really don't know what happened. We had 150 yards rushing and 150 yards passing."

Garrett Turner had two touchdowns in the game as he was on the receiving end of a 25-yard touchdown pass from Maddox Tackett. Turner also returned an interception for a TD.

The Lakers scored their other touchdown when Daniel Boles sacked the quarterback, stripped the ball and returned it to the end zone.

"Daniel was a real force on defense," Coach Tackett said.

Hawks continue to struggle:

Clinton is still in search of its first win of the 2022 season. The Hawks lost 34-0 last week to Lenoir City.

"We're just banged up and we're beat up and we had too many silly mistakes," Clinton coach Justin Hite said.