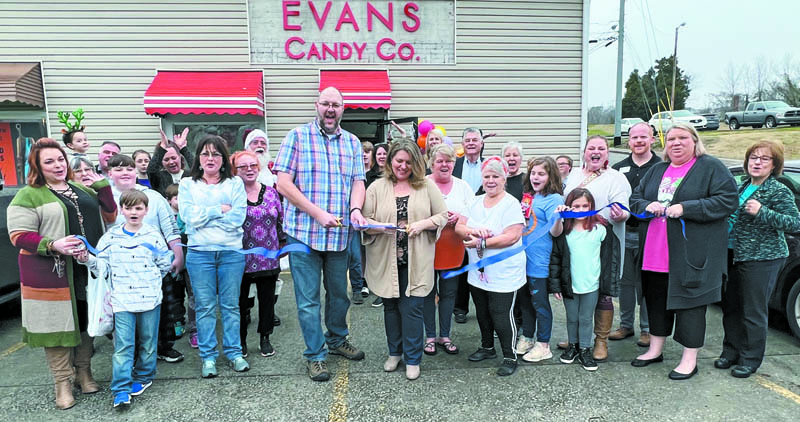 After a "soft" opening a few weeks ago and the subsequent build-up of inventory, sweet-treat choices and displays, Evans Candy Company celebrated its arrival in downtown Clinton with a grand opening and ribbon-cutting ceremony last Friday.

Kelli Evans, who has been hard at work the past few weeks decorating, re-decorating and stocking the store at 226 N. Main St., was on hand with her husband, Phil, to cut the big blue ribbon stretched across outside the front of the store for the event at 4 p.m. Friday, staged by the Anderson County Chamber of Commerce.

With special discounts and some new candies on display, the store was busy leading up to the ribbon-cutting, as customers looked over the large selection of candies and special soda pop flavors.

The Evanses opened the store in the space formerly occupied by Signs Unlimited, next door to Dogwood Carpentry.

"This is something I've wanted to do for a really long time," Kelli Evans said when she opened the store in time for the Fall Antique Festival. "There's not a lot that goes on here for the kids, and I thought this would be a fun place for kids to stop in and not have to spend a lot of money.

"We're looking for the feel of the old fashioned mom-and-pop candy stores," she said.

The store features all kinds of candy, especially a lot of the old kinds – sort of a blast from the past, she said.

Customers on Friday seemed intrigued by the large selection of retro-style bottled soda pop, with all kinds of funky flavors. There are more than a dozen flavors, even dill pickle.

Some are available already chilled for single-bottle sales.

There also is a large variety of taffy flavors offered, including some spiced with chili peppers.

Evans Candy Co. will be open from 11 a.m. to 5 p.m. Tuesday-Friday, and 10 a.m. to 3 p.m. Saturday. The store will be closed on Sundays and Mondays.

There also are plans for Evans Candy to have an online store, which probably will debut sometime in January, Kelli Evans said.