Lady Wildcats score three big wins in Greeneville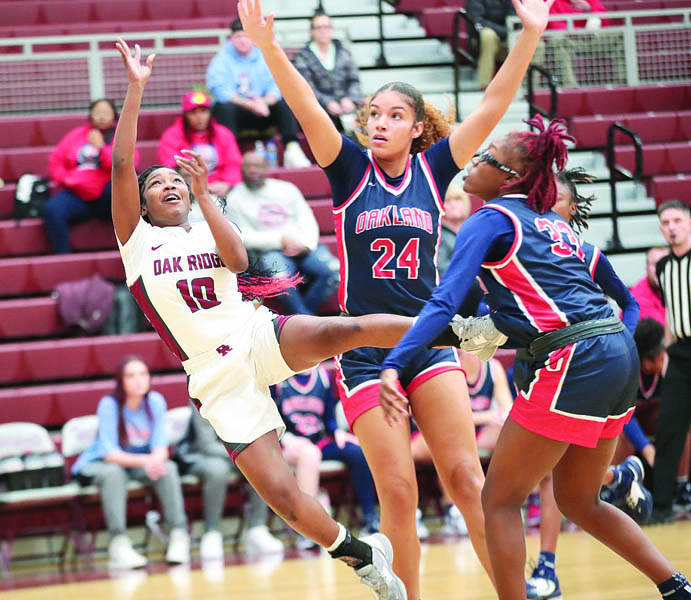 It's no secret that Oak Ridge High School's girls basketball team has endured more than its share of struggles throughout the early stages of the 2022-23 season.

But the Lady Wildcats closed out the 2022 calendar year with three consecutive victories in one of Tennessee's top holiday tournaments.

Oak Ridge defeated Pikeville (Kentucky) 70-66 on New Year's Eve to claim sixth place in the Andrew Johnson Bank Ladies Classic in Greeneville.

The Lady Wildcats exhibited a solid showing in Northeast Tennessee despite dressing just seven players for the tournament, which featured 20 of the top girls basketball teams from the Southeast.

ORHS Coach Paige Taylor was happy with the Lady Wildcats after four tough games over four days.

"I'm super excited about the effort," Taylor said. "We dressed only seven players and we made shots that we needed to make.

"We played four tough teams in four days and we just had great effort," she said.

Ze'Yana Stewart led Oak Ridge with 24 points. Dimitria Strickland added 23.

Ayana Porter had 14 and Jenna Johnson finished with nine points against the Lady Panthers.

The Lady Wildcats also had tournament wins over Providence Day (North Carolina) and Mercer County (Kentucky).

Oak Ridge (6-8) defeated Providence Day, 58-42, as Porter scored 18 points.

Strickland had 10. Kannon Green added nine, and Jenna Johnson finished with six points and 14 rebounds.

The Lady Wildcats knocked off Mercer County 67-52 behind 22 points and seven rebounds from Porter.

Stewart finished with 21 points, seven assists and five steals.

Oak Ridge opened tournament play with a 52-48 loss to Thomas Dale, the top-ranked team in Virginia.