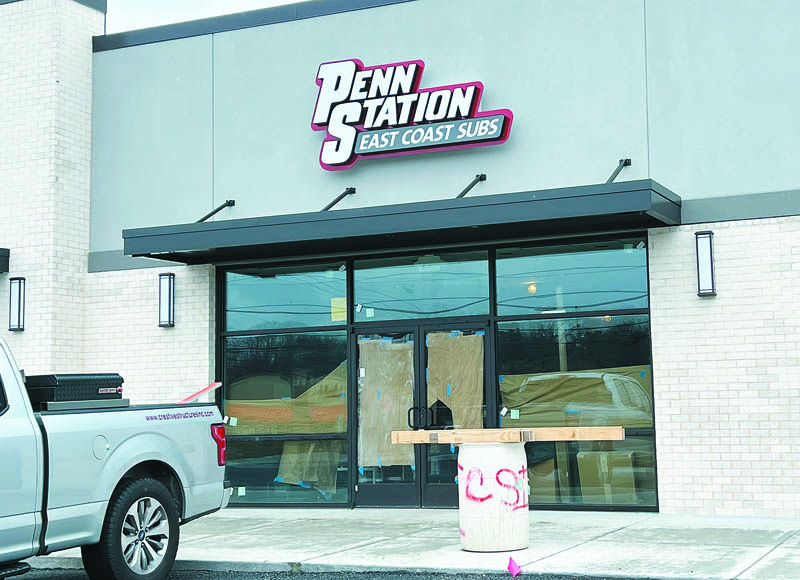 Penn Station subs will be the first business to open in the new Clinton Shopping Center on North Charles G. Seivers Boulevard between Sonic and Wendy's, probably within the next 30 days, according to the leasing agent.

Workers have already put the Penn Station sign on the front of the building, and are installing the equipment and furnishings inside. The sub sandwich shop began advertising for staff in November.

The four-unit building will be the home to US Cellular, The Noire Nail Bar, Penn Station East Coast Subs and a pizza restaurant, according to the leasing agent, Peter Medlyn of Oliver Smith Realty in Knoxville.

Penn Station posted on Facebook in November that "We're coming to Clinton," and asked for people to apply to work for the new location. No opening date has yet been given. Penn Station already has locations in Knoxville and Sevierville.

On its website (penn-station.com), Penn Station already lists the Clinton location at 2224 N. Charles Seivers, even though it's not yet open. The chain has 317 locations in 15 states, and began in Cincinnati. Ohio, in 1985. All but one of its stores are franchises.

"Our menu features an array of mouth-watering grilled submarine sandwiches, fresh-cut fries and hand-squeezed lemonade," the website says. "All sandwiches are prepared fresh in full view of the customer using delicious hearth-baked bread, USDA steak and the finest meats, cheeses and vegetables.

"The potatoes are hand-selected, fresh-cut and flash-fried in cholesterol-free peanut oil. The lemonade is made from scratch every day using hand-squeezed lemons."

The city of Clinton in May 2022 issued a building permit for the nearly $1 million, 7,000-square-foot shell building at the site. Contractor was listed as Creative Structures, Inc.

The developer for the project is John Davenport and Davenport Construction Co. in Jellico, Medlyn said.

Although an early artist's drawing of the center on the Oliver Smith Realty website showed a Dairy Queen as one of the tenants, Medlyn said that was not accurate.

The site is less than a mile from Interstate 75, Exit 122. It will have 75 parking spaces, according to documents on the Oliver Smith Realty website.

The 1.2-acre site was owned until recently by LKM Properties, the holding company for Weigel's convenience stores properties.

Clinton City Manager Roger Houck said that Weigel's had plans earlier to put a second Clinton store on that site, but gave up on the idea when the Tennessee Department of Transportation declined Weigel's request for a cut through the median on Seivers Boulevard so traffic could access the store from both sides of the highway.