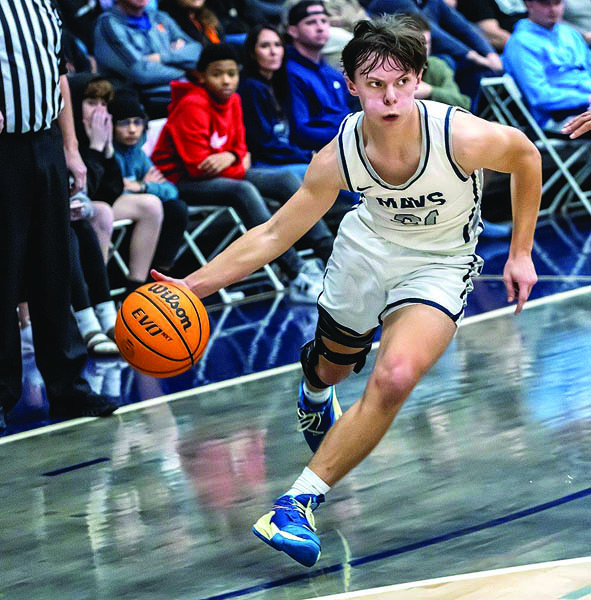 Anderson County High School boys basketball Coach Jordan Jeffers knew that his team's game against crosstown rival Clinton would be emotionally charged as the two teams played in front of a packed house Friday night at ACHS.

And the emotion nearly got the best of the Mavericks, at least in the first half.

"I felt like the team who could control their emotions would probably be the one to win the game," Jeffers said after the Mavericks edged the Dragons 62-60 to salvage a regular-season split in the Crosstown Showdown.

ACHS, which has won six consecutive games and eight of its last nine, struggled to control its emotions early.

"We had guys yelling at the officials and guys untucking their jerseys," Jeffers said.

The game was tightly contested throughout, and the two teams were embroiled in a 25-25 deadlock at halftime.

But the Dragons, who won the first meeting between the two rivals on Dec. 1 at Clinton, held a slim 40-38 advantage after the third stanza after Jeremiah Lee buried a long-range jumper as time expired in the quarter.

The Mavericks took a 41-40 lead early in the fourth quarter when Cole Russell hit a 3-pointer with 7 minutes, 44 seconds remaining in the game.

After that, the Mavericks held the upper hand throughout much of the rest of the contest. Anderson County (10-8 overall, 2-2 in District 4-AAA) took a 59-53 lead when Russell converted a free throw with 23.3 seconds left.

The Dragons (7-13, 2-2) would battle back and pull to within 60-57 on a bucket by Bryson Maddox before ACHS's Brandon Dake iced the game with a pair of free throws a short time later.

Lee's 3-pointer at the buzzer made things a bit closer, but it was too little, too late for Clinton.

Lee finished with a game-high 28 points, but it wasn't enough.

Clinton Coach Chris Lockard was obviously frustrated as his team lost its seventh straight game.

"Our defense was pretty good, but when you look at that fourth quarter, we had about seven or eight wasted trips (offensively)," Lockard said. "Our guys were a little nervous, and I think the environment might've gotten to them a little bit."

Jeffers had a different take on the environment.

"This was just a great atmosphere, and I'm sure Coach Lockard will tell you the same thing," he said. "This was a great game and a big win for us.

"Coach Lockard and his staff do a great job, and I think he outcoached us, especially in the first half."

ACHS boasted a balanced scoring attack on this night as the Mavericks were 15-for-20 from the free-throw line.

Hayden Craig led the way with 15 points.

Trent Strickland added 11.

Dake had 10, and Cole Russell finished with nine.

Lebron Booker scored 10 for the Dragons.

Frederick Dorsey finished with nine as he provided Clinton with a spark off the bench.