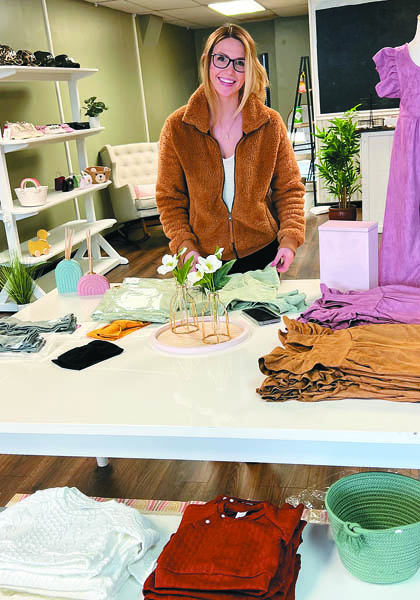 The Little Boutique, a store specializing in clothes and other merchandise for children, plans to open by early February at 338 Market St. in downtown Clinton.

Heather Jones, who will own and operate the store, said it will have "clothing, little children's items, blankets, bibs, toys, anything that's childish."

As of Monday, Jones was still stocking and decorating the shop, and said she hopes to open The Little Boutique "probably the last week of January or the first week of February."

"We need to get in a lot more merchandise so we can have the store full when we open," she said.

The store will be in the white building with the awning on the corner of Market Street and Freddie Fagan Way, which previously housed the Tennessee Tulip Company, Jones said.

Owning a children's store is "something I've been wanting to do for a long time," she said.

"I have three children under [age] 4," Jones said. "After I had my first, I got into dressing up my kids, and I like boutique clothing. I just had my third child four months ago. I always thought I would wait until my kids were older, but I decided to just go ahead and do it."

Jones is a Clinton native and a graduate of Clinton High School, but now lives in Powell with her husband, Garrett Jones. The couple owns some rental properties throughout Knox County, but she has been a stay-at-home mom until now, she said.

"I grew up here, I was born here, and I know how big downtown Clinton is getting," she said. "It's really flourishing, and I decided I wanted to be a part of that. My goal is eventually to move back to Clinton."

"Nothing is set in stone" as to the store's hours, Jones said, and she still has to work out childcare arrangements.

But she believes The Little Boutique will be open Monday through Saturday, probably from 10 a.m. to 5 p.m., and will be closed on Sundays.

The store already has a Facebook page, facebook.com/thelittleboutiqueTN.

"At The Little Boutique, we enjoy all 'the little' things, but especially 'the littles' that make our lives so special," the Facebook page says.