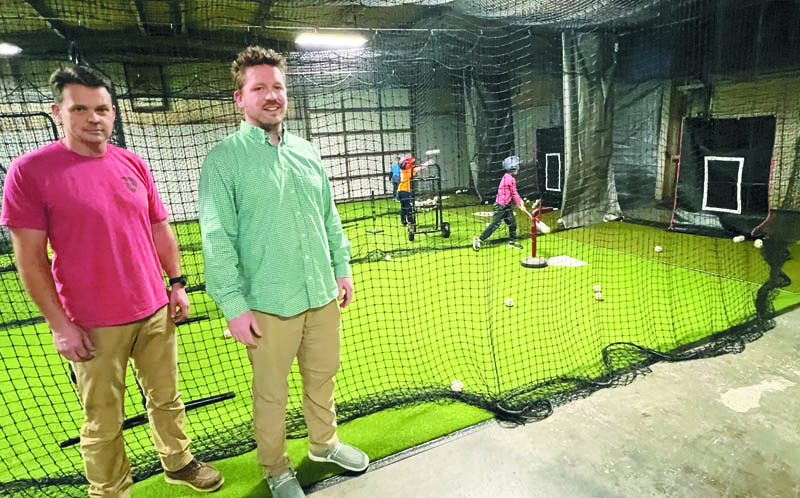 A new indoor baseball and softball training facility opened last week in Clinton, offering batting cages for hitting and pitching practice and personal coaching.

On Deck Athletics is situated in a building at 207 JD Yarnell Industrial Parkway, across the road from the entrance to ACE World Companies.

The business is open 4 to 10 p.m. Monday through Friday, and features a Power Zone hitting machine, three practice lanes, and a 30-by-48-foot team area.

According to one of the owners, Stephen McNally, the facility offers one-on-one coaching in baseball and softball play, and rents out its lanes and other features in 30-, 60- and 90-minute intervals.

"We decided to open this to provide an indoor baseball and softball training facility for the kids in this area," McNally said. "Most people around Clinton drive 30 minutes or more to Knoxville to train in a facility like this.

"We believe we have the only facility like this in our area, north of Knoxville. We're also looking to draw from Anderson, Union, Campbell and Scott counties. We've had a lot of interest from Campbell County already. Many of them go to Knoxville now."

McNally got together with Allen Goins to set up the facility, which is in a building owned by Goins' family that is part of the adjacent Blue Chip Machining business.

"They were just using this building for storage, so we saw the opportunity to use it for something more productive," McNally said.

"It's a way to bring more accessibility to young athletes here who would otherwise have to go to Knoxville. We will do some special events on weekends, and some camps," he said. "For now, we will try the 4-10 p.m. schedule, but we are open to adjusting our hours to what the community needs."

The facility has about 3,000 square feet of training space configured into five lanes, McNally said.

"Five lanes can be rented out individually," McNally said.

"Three have dividers that can be moved to create a 30-by-48-foot team training space. Our other two lanes are primarily set up to be longer to accommodate high school and college pitching."

On Deck Athletics will be offering "team practices; individual lane rentals for athletes to come take batting practice and work on pitching; and one-on-one training for athletes from high school into college and even the minor leagues," McNally said.

"It's kind of amazing the amount of minor- and major-league talent that's available in this community" to help with the coaching, he said.

For now, "One of us or our wives will be there every night," McNally said. "But we plan to hire some part-time help once we get it going and see what needs we have."

On Deck Athletics has a Facebook page that gives details about the facility, including rates and availability. Lane rentals are $20 for 30 minutes or $30 per hour, while team rates are $75 for 90 minutes.

McNally said reservations are recommended for anyone who wants to use the facility.