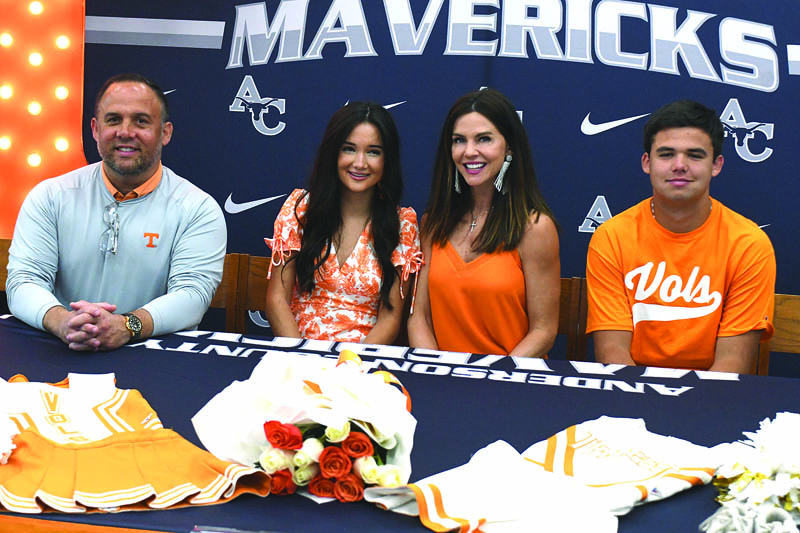 It's always been the University of Tennessee.

Willow Martinez has been pursuing her dream of cheering for the Orange and White since she was 3 years old.

"I feel like I've been training for this my whole life," said Martinez, an Anderson County High School senior cheerleader.

The many hours of hard work, including the countless days of practice, practice, practice, went up another notch in February, 2022 — that's when it became serious.

"We had a clinic in February, and then in July it became a little more serious," she said.

There was a video submission in October and interviews in November and it wasn't until February that the dream became a reality.

"UT has always been my No. 1 choice," she said.

Martinez is a five-star recruit in the world of cheerleading.

"It's a lot of work and a dream come true to be cheering at Neyland Stadium," she said.

Officially signing her name on the dotted line to commit to the University of Tennessee lifted "a weight off my shoulders," Martinez said.

She said practice at UT doesn't begin until June, but she has met the squad and the members have been "so supportive and great."

For the past four years, her mother, Holly, has been her high school coach. She said she'll miss having her as a coach, but is looking forward to the challenge and work ahead.

"I'll miss having Mom around," she said.

As a freshman, she will cheer at home football games and basketball games — freshmen do not travel.

And in the spring, she said, it's time to get more work in.

Martinez will major in pre-law.