Discusses agency's 90th birthday and plans to boost solar capacity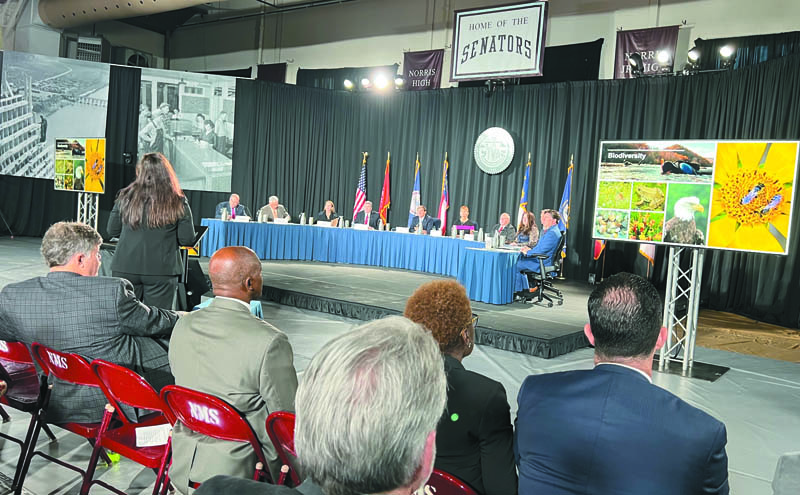 The Tennessee Valley Authority plans to double its current solar power production as it continues to add about 3,800 megawatts of new generating capacity.

TVA President and CEO Jeff Lyash outlined those plans last week during a meeting of the TVA board at Norris Middle School.

Solar is part of the mission of the nation's largest public utility to increase production of clean, sustainable energy, Lyash said as the TVA Board of Directors met in Norris as part of the agency's 90th birthday celebration.

Norris Mayor Chris Mitchell welcomed the board members to the city to start the meeting at 9 a.m. Wednesday.

TVA will turn 90 this Thursday (May 18), the anniversary of the 1933 signing by then-President Franklin D. Roosevelt of the TVA Act. That created the agency with the goals of boosting navigation, flood control and economic development in the Tennessee Valley.

"TVA's mission of service is just as important today as it was 90 years ago," Lyash said. "We were created as an innovation company, and we will use that same innovative spirit and mission of service as we address today's challenges.

"Our region is experiencing growth at six times the national average, which means we must invest in our current power system and build new generation so we can continue meeting our region's demand," he said.

"As our economy continues to grow and electrify, we are becoming more dependent on electricity in our daily lives," Lyash said. "That energy must be affordable, reliable, resilient, and clean. We are standing at an intersection, and we want to ensure we continue to provide our region with the energy security that it expects and deserves – now and for generations to come."

TVA says it now provides electricity to more than 10 million people across seven states, and has also played a major role in making the region "an economic powerhouse while protecting our natural resources."

TVA operates one of the cleanest and lowest-cost power grids in the nation, manages 293,000 acres of public lands, and is a driving force behind many of the multi-billion-dollar economic development projects, the agency said in a release in association with the Norris visit.

Tomorrow (May 18), TVA employees will participate in a "day of service," during which thousands of them will do volunteer work in their communities, the agency said.

"TVA's goal is to impact all 210 counties in its service territory" during the day, the agency said.

During the Norris meeting, Lyash said TVA is spending $18 billion to build new generation capacity through combustion turbines, solar projects, combined-cycle natural gas, and energy storage.

"Through 2027, TVA will invest $2.8 billion in transmission upgrades, including a new state-of-the-art Primary System Operations Center, to prepare for growth and increased energy capacity," the agency said.

 An additional 6,000 megawatts of solar energy production and storage is planned, which would more than double TVA's solar capacity, Lyash said. 

"There is no one answer to achieving our region's and nation's clean energy goals," he said. "We are committed to developing potential pathways to a clean energy future. We must rapidly expand our clean energy resources such as solar, new nuclear, and pumped storage."  

During the Wednesday (May 10) board meeting, the board and attending guests in the Norris Middle School gymnasium heard a summary of TVA's fourth Sustainability Report, presented by Rebecca Tolene, the agency's chief sustainability officer.

The report noted that in the first six months of fiscal year 2023, nearly 60% of the energy TVA produced was carbon-free, coming from nuclear, hydroelectric and solar sources.

"TVA remains committed to building a better tomorrow for the people it serves today," Tolene said. "For TVA, sustainability means looking beyond ourselves and leading carbon reductions across the broader economy to ensure we provide affordable and reliable energy, a healthy environment and a prosperous economy.

"We've made great progress, but there is more to do as we accelerate and expand carbon-free technologies without impacting power affordability, reliability or resiliency," she said. 

On Tuesday afternoon, May 9, the TVA board members held a two-hour public listening session at the middle school.