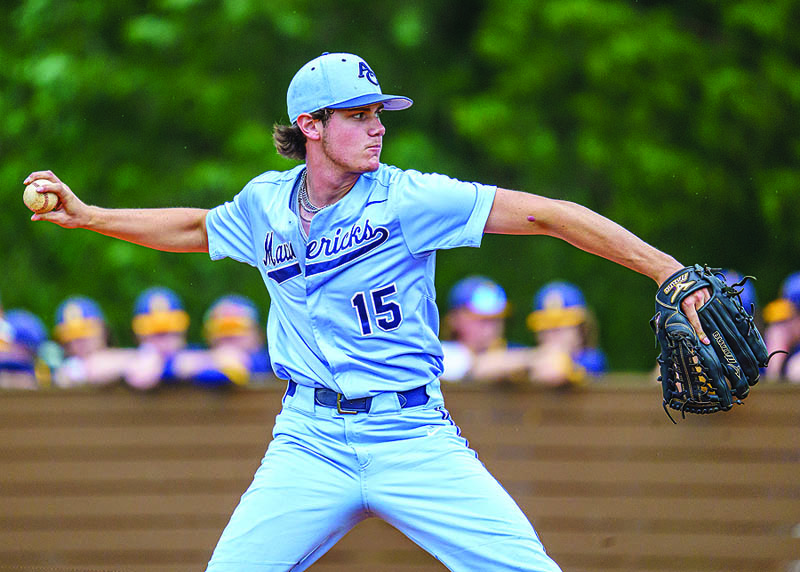 After earning its second consecutive trip to the regional tournament, 2022 Region 2-AAA champion Anderson County saw its baseball season come to an end at Gibbs High School's Steve Hunley Field in Corryton Saturday.

The regular-season three-way District 4-AAA champion Mavericks suffered a 7-6 loss to league rival Knoxville Halls Saturday night.

ACHS, Clinton and Halls shared the regular-season district title, and the Red Devils won the tournament title as the No. 3 seed with a decision over the second-seeded Mavericks.

On Saturday, the Mavericks (23-15) had a 3-1 lead in the consolation game against the Red Devils before Halls scored five runs in the bottom of the fourth inning to open a 6-3 lead.

ACHS, which outhit the Red Devils 11-8 in the contest but committed four errors, pulled to within 6-5 when it scored two runs in the sixth.

The Mavs tied the game in the sixth before Halls took win in the bottom of the seventh.

Offensively, Morgan Clark, Anderson County's first baseman, went 3-for-4 with a pair of doubles, two RBIs and two runs scored.

Trent Strickland had two hits and scored twice.

Daniel Unthank was 1-for-3 and drove in two runs.

The Mavericks opened regional tournament play with a 2-0 loss to the host Eagles Friday.

Gibbs pitcher Braden Graves, a senior who recently signed with Chattanooga State Community College, outdueled ACHS's Mo White.

Graves also led off the bottom of the first inning with a home run.

Gibbs, which eventually won the region tournament title, also scored in the second on an RBI single by Talan Owens that plated Zaydin Ivey.

Graves surrendered a double to Ty Wilson and a single to Strickland.

He pitched a complete game, walking five and recording nine strikeouts.

White threw a six-inning complete game.

He yielded two runs, five hits and two walks while striking out five.

The Mavs returned to the diamond late Saturday afternoon and avoided elimination with a 5-2 victory over Seymour.

Aydin Bond had a double and knocked in two runs against Sevier County's Eagles, while Clark had a pair of hits and scored.

Bond threw a complete game, going seven innings.

He gave up two unearned runs, three hits and two walks.

He fanned three Seymour hitters.